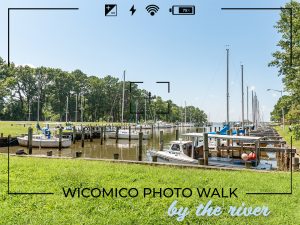 SALISBURY, MD – Amateur and professional photographers are invited to join Wicomico County Tourism on Saturday, May 14, for the Wicomico Photo Walk: By the River.
This is Wicomico County Tourism's fourth photo walk event, and it will be held from 10 a.m.-noon at Cedar Hill Marina and Park in Bivalve. It is free to participate.
From 10-10:30 a.m., attendees can enjoy coffee and doughnuts while they chat with other photographers. At 10:30 a.m., the walk will begin. Photographers will be able to capture photos of the Nanticoke River, the small beach, boats at the marina and nature. Participants should bring a camera; a smartphone is fine.
Wicomico County Tourism will share photos from the event on its blog and on social media, with credit.
"I've really enjoyed interacting with the photographers at each event so far, and it's fun to see the photos afterward," said Vanessa Junkin, marketing and public relations manager for Wicomico County Recreation, Parks & Tourism. "The coffee and doughnuts will be a new addition for this photo walk."
Sign up via a Google form available at www.WicomicoTourism.org under "General Information" and then "Tourism Blog."
There is a rain date of May 15; participants will be notified if the rain date is needed.