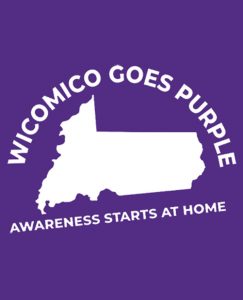 SALISBURY, MD–Wicomico Goes Purple, whose purpose is to start conversations and educate about the dangers of opioid abuse, sponsors "A Night of Hope" Friday, September 13, at 6 p.m. at the Riverwalk Amphitheater.
"We invite everyone to experience how the faith community can be a vital partner in the prevention, treatment, and recovery of substance abuse," said George Whitehead, WGP's coordinator of faith community initiatives.
The program includes music, prayer and scripture read by clergy from throughout the county and testimonials from those whose lives have been impacted by addiction. The service concludes with a candlelight vigil followed by the opportunity to visit tables by local agencies offering recovery support.
In case of inclement weather, "A Night of Hope" will move to St Peter's Episcopal Church, 115 St. Peter's St. (off the downtown plaza).  For more information call 410-749-1480 or visit info@wicomicogoespurple.com.
According to the National Institute on Drug Abuse, Maryland's overdose death rate is twofold greater than the national rate of 14.6 deaths per 100,000 persons. The state ranks in the top 5 for opioid-related overdose death rates with the largest increase attributed to cases involving synthetic opioids, mainly fentanyl. (www.drugabuse.gov/opioid-summaries-by-state/maryland-opioid-summary)