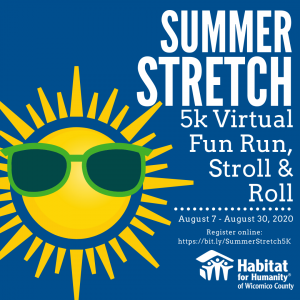 SALISBURY, MD –Habitat for Humanity of Wicomico County (HFHWC) is hosting its first-ever virtual 5K fun run/roll/stroll to raise money to continue building homes for Wicomico County's low-income families, and funding critical repair projects for homeowners in Wicomico and Somerset Counties.
Everyone deserves to feel safe at home. And everyone deserves a decent, affordable place to call home. For many families–those who were already struggling with a need for decent and affordable housing–their daily lives have only become more challenging. For others–those who find themselves affected by the economic crisis caused by the COVID-19 pandemic–the future is newly uncertain.
To continue to assist hardworking families find a safe, affordable place to call home, HFHWC invites the public to run, wheel, walk, bike, or skate a 5K on their own time and on the course of their choosing. Participants are invited to take part in the theme of "Summer Favorites" and dress as their favorite thing about the summer season.
Registration is now open and ends August 30, 2020. The Summer Stretch 5k may be completed at any time starting August 7 up until midnight August 30. Prices vary from $35 for an event registration with a commemorative tee to $25 for registration alone. Participants can register online at https://bit.ly/SummerStretch5K.
Habitat for Humanity of Wicomico County currently has a list of seven families waiting to purchase homes at 0% interest mortgages through Habitat. All proceeds raised will go to purchasing materials to build/repair homes for hardworking families in need.
About Habitat for Humanity of Wicomico County
As a Christian housing ministry, Habitat for Humanity works in partnership with God and people of all faiths to make home ownership of decent, affordable homes a matter of conscience and action. Habitat for Humanity of Wicomico County was founded in 1987; since then the affiliate has built 68 homes locally. Through volunteer labor and tax-deductible donations of money and materials, Habitat builds and rehabilitates simple, decent homes with the help of the homeowner (partner) families. Habitat homes are sold to partner families at no profit, financed with affordable, no-interest loans. The homeowners' monthly mortgage payments come back to the affiliate to help build more homes for more families.
For more information about Habitat for Humanity of Wicomico County, please call Molly Hilligoss, Executive Director at 410-546-1551 or go to www.wicomicohabitat.org.