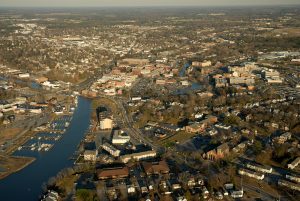 Wicomico County's Department of Recreation, Parks & Tourism announced the completion of its 34th annual report this week.  The report clearly outlines the successes and challenges of the past 2013 fiscal year as well as current year goals for the department's four main divisions including recreation, parks, tourism and the civic center.
The Department of Recreation, Parks and Tourism strives to provide high quality events and programs, to preserve unique natural resources, to acquire, develop and maintain park land and recreation facilities and to market the County for the purpose of attracting visitors.  The average Eastern Shore County in Maryland subsidizes just its recreation and parks department at a cost of $17.88 per citizen. Wicomico County operates its entire Recreation, Parks & Tourism Department (including the WY&CC) for only $15.65 per citizen, making it the lowest on the shore.
The FY13 Annual Report outlines efforts undertaken to continue operations and demonstrates the positive economic impact generated for the community.  A few highlights:
The WY&CC hosted 880. Record use of the venue was seen in the sports, corporate, education and religious market sectors. Events held drew over 280,000+ people.
Over 250 different recreation activities were offered, attracting 14,600+ registrants and resulting in a total visitation of 332,000.
Thirty events were delivered by the tourism staff, attracting 279,000+ visitors. These events required over 31,000 hotel room nights, meals & other services to infuse over $17.5 million into the local economy.
State Program Open Space funding was utilized to continue efforts to restore aged or damaged facilities:

Basketball and/or tennis courts at Mardela Springs, San Domingo, Hebron, Centennial Village, WinterPlace and Crooked Oak were sealed and striped.
Federal FEMA funds were secured to repair damage to Tyaskin & Bivalve Wharfs as well as Pemberton Park trails caused by Hurricane Sandy.
A playground module at Crooked Oak Park was replaced.
Funding was secured to begin replacement of an aging vehicle fleet.
The complete report can be found at: http://www.wicomicocounty.org/DocumentCenter/Home/View/2098