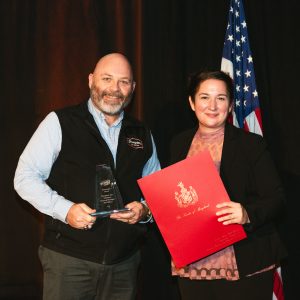 Salisbury, MD – Wicomico County's tourism division recognized its strongest partners during the Salisbury Area Chamber of Commerce Annual Awards Luncheon on Thursday, Oct. 26, at the Wicomico Civic Center.
The mission of the Wicomico County tourism division is to attract visitors to stimulate the economy and enhance quality of life.
Tourism's community partners help the County recruit new events, retain and grow current events and welcome event attendees into the community.
Homer King of the Delmarva Wrestling Club was recognized as the Tourism Partner of the Year. King has secured and managed local volunteer support for the Mid Atlantic Wrestling Association's South Regionals and Eastern Nationals for over a decade.
The Tourism Volunteer of the Year Award went to Eddie Dean and Andrew Emmert. The pair volunteered to clear, clean and protect a historic cemetery at the recently-opened Pirate's Wharf Park in Whitehaven. The restoration work and installation of a split rail fence will protect the cemetery's historic significance for years to come.
Burnish Beer Co. was named Tourism Business of the Year. Burnish has established themselves as a crowd-favorite amongst teams competing at the neighboring Henry S. Parker Athletic Complex. Their welcoming atmosphere helps Wicomico County put its best foot forward when hosting out-of-town teams, giving visitors the opportunity to create memories both on and off the field.
The Hospitality Person of the Year Award was presented to Bill Dillon, general manager of the Hampton Inn of Salisbury. Year after year, the Hampton Inn rolls out the red carpet for visiting tournament organizers and teams, building personal connections and providing a comfortable stay in Wicomico County.