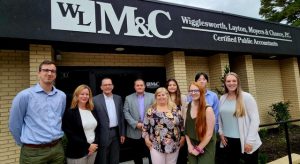 Wigglesworth, Layton, Moyers & Chance, P.C. hosted the SACC's October Business After Hours on Thursday, October 13th, at their offices located at 306 Kay Avenue in Salisbury, MD.
Partners James E. Moyers "Jim" Moyers and Matthew "Matt" Chance welcomed a group of 50+ members to this networking event.   Jim, a West Virginia native who arrived in Salisbury in 1980, is certified in Maryland and West Virginia and Matt, a Salisbury native and SU graduate, is certified in Delaware, Maryland and Virginia.
Jim shared that Wigglesworth, Layton, Moyers & Chance, P.C. was opened in 1953 by the John Ketchum as a "Business & Tax", accounting, business management, and tax consulting company. He was joined by the Margaret A. Toadvine, who later purchased the company.  
The accounting business continued its growth with the addition of the late Frederick M. Wigglesworth in 1966, John T. Layton, Jr. in 1974, James E. Moyers, II in 1980 and Matthew P. Chance 2015.   The firm was previously located near the hospital, but Jim and Matt purchased the current building, which was in very bad shape, and completely gutted it and refurbished it.  Beautifully renovated 4 years ago, the décor is a combination of modern & industrial with an antique twist. 
Jim, concluded by proudly announcing that every three years all CPA firms are subject to a peer review process by an outside CPA firm; this is mandated by the governing licensing bodies and WLM&C has always received the highest possible marks.  
Today, Wigglesworth, Layton, Moyers & Chance, P.C. is a full-service accounting firm with a highly trained staff that prides itself in providing personalized attention to its client's accounting and tax needs.   Services include:
Tax Preparation & Planning – Business, Personal, Estates, Trusts, Charitable Organizations, Social Organizations; Financial Statements Audits, Reviews, Compilations, Preparations, Agreed Upon Procedures; and Accounting
 – Bookkeeping, Payroll, Consulting, Cash Flow Analysis, Litigation Support, Certified QuickBooks Consultant.
Attendees were delighted with a wonderful buffet provided by Mission BBQ.  Beverages included a delicious sangria, wine and beer.   Lucky members Jennifer Atkinson, Andrew Duley and Laurie Cannon received gift certificates for $50, $100 and $250 services at the firm.    
For more information visit www.wlmc-cpas.com,  call 410-742-1121 or visit them at 306 Kay Ave in Salisbury, MD.