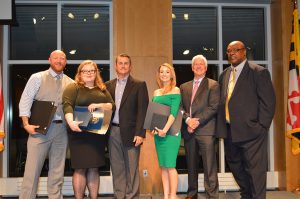 Maryland Capital Enterprises is proud to announce Lacey Coleman, Owner of Coastal Comfort Heating  & Air Conditioning as the recipient of the 2019 MCE Palmer Gillis Entrepreneur of the Year Award. The awards banquet was recently held at Salisbury University. Runners up were Lori McAllister, owner of The Daily Brew Coffee House in Snow Hill, MD and Eric Clough, owner of eShore Sports in Stevensville, MD. Presenting the award was Palmer Gillis and MCE's Executive Director Maurice Ames. Lacey was awarded a plaque and a cash prize. The two finalists also received awards as well.
Coastal Comfort Heating & Air Conditioning, Owner Lacey Coleman:
Lacey Coleman is at the forefront of female integration into a male dominated industry, building a small heating and air company in to one of the most well-known companies on the Eastern Shore. Since 2008, Lacey's focus exceeded expectations in leadership and management, customer satisfaction, employee retention and training have helped steadily increase gross revenue and customer base. Coastal Comfort has experienced vast growth internally, more than doubling in size in just a few years and expanding external operations to an additional office location in Sussex County, DE to better serve the consumers in that market.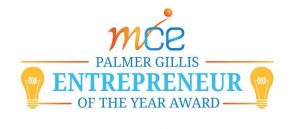 Lacey and her team were recognized on a national level earning the Carrier President's Award in 2019 and locally voted "Best Of HVAC" more than 13 times. In addition, she has participated in active roles in local non-profits and is dedicated to community enrichment through charitable endeavors. Lacey was awarded the 2016 Jaycee National Award for Most Outstanding Member and in 2017 was nominated and inducted into the Maryland Jaycee Militia, the most prestigious award and grants lifetime membership. Lacey has two daughters, Delanie and Adalynn, whom she strives to be a positive role model and inspire them to possess the same grit and determination it takes to be an entrepreneur.
Coastal Comfort Heating & Air Conditioning 32101 Beaver Run Dr. , Salisbury, MD 21804
Please join us in Congratulating Lacey, Lori and Eric!!