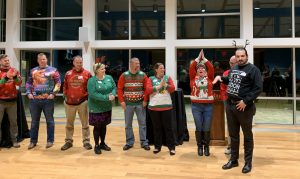 by Cathy Diekmann
Business professionals enjoyed a winter wonderland-themed Business After Hours at the Ward Museum of Wildfowl Art on Thursday, December 12, 2019.
There's always something fun in store at the Ward Museum! Guests were welcome to shake off the night's chill at a hot cocoa bar and wander through the galleries to locate 14 different Elves on a Shelf. Those who found all 14 of those little rascals earned a 20% off coupon towards purchases at the Ward Museum's Treetops Gift Shop. Paints, brushes, and ornaments were laid out for guests to decorate and take away. Networking and enjoying the fellowship of other Chamber representatives is always a highlight of Business After Hours.
During the program, Ward Museum Executive Director, Kristin Sullivan, reminded guests that while the Ward Museum is home to the world's largest public collection of antique decoys, it offers much more. They have served nearly 28,000 people through their educational programs last year alone. They bring 4,000 people and the related economic impact to Worcester County for their annual Ward World Championship Wildfowl Carving and Art Festival, which will celebrate 50 years in 2020. Also in the works for 2020, nearly 950 photos from across the United States and internationally will be on display during the tenth annual Ward Museum's Art and Nature Photo Festival. Sullivan enthused, "There are so many unique opportunities to partner with us and fulfill our mission to provide environmental education, heritage conservation, and access to the arts for all."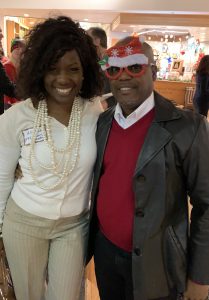 Sullivan encouraged guests to support the Ward Museum's second annual Youth Environmental Action Summit taking place March 12, 2020. This event brings together youth, educators, non-profit organizations, and businesses to engage and finance student-led projects that address needs in their communities. She explained, "These young people develop real, action-oriented projects like reducing single-use straws in schools and roof-top gardens in the city."
During the program, Cathy Diekmann shared information about Chamber Connect, a new membership benefit that adds great value to a Chamber membership at no additional cost. This program provides members an opportunity to enhance their visibility and business relationships through both open and structured networking and the exchange of warm referrals. All members are welcome to kickstart their workweek at Business Before Hours (BBH.) These gatherings occur on the first and third Mondays of each month from 8:00 AM – 9:15 AM on the second floor of the SVN – Miller Commercial Real Estate, 206 E. Main Street, Salisbury. There is no need to RSVP. After attending BBH, you may want to connect with a SACC Lead Share group. These traditional referral networking groups offer exclusive access to other business professionals who may have a connection you are seeking. These groups meet weekly at different times and days. Members will be directed to a group that suits your business category and schedule.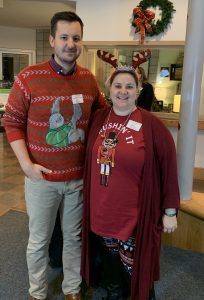 This Business After Hours was a great example of how partnerships enhance the value and interest of a single event. There was plenty for guests to learn, taste, do, and receive because of the many businesses that contributed. Jessica Eisemann of Edward Jones Investments sponsored the event. "The Ugly Pie" ladies donated a generous gift card to the winner of the Ugly Christmas Sweater contest (Jim Stein from Hibu narrowly "defeated" Heather Mahler from the Community Foundation of the Eastern Shore.) Tropical Smoothie Café treated guests to free smoothie samples. Market Street Inn, Taste Events, and Delmarva Boil Company each offered a variety of tasty hors d'oeuvres. Musicians Harvey Allen supplied a party vibe by jamming out a mix of rock, funk, blues, and jazz. That's a wrap on Business After Hours for 2019. There's more where that came from in 2020.
Your business can extend its exposure, reach, and influence through a Business After Hours partnership! Contact Cathy Diekmann, Director of Membership Services 410-749-0144 or cdiekmann@salisburyarea.com, to identify a partnership opportunity for your business.