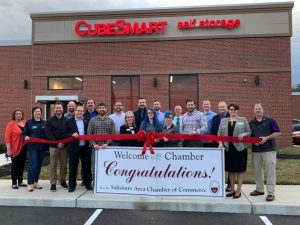 By Cathy Diekmann
On February 18, 2020, the Salisbury Area Chamber of Commerce gathered for a ribbon-cutting at CubeSmart in Salisbury.
When asked what sets CubeSmart Self Storage apart from other facilities, Store Manager, Jordan Murphy offered a surprising answer, "Empathy."
Empathy?
Murphy explained, "We understand that most of our customers are going through some kind of change in their life – that's why they need to store items. It's stressful. So, we focus on that human aspect of their experience by offering them quality customer service and empathy."
Division Trainer, Denise Dewey, echoed that sentiment "We hope that you really feel the difference with CubeSmart. Our mission is to simplify our customers' organizational concerns or challenges by giving them innovative storage solutions, genuine care, and unparalleled service."
Located at 600 Glenn Avenue, Unit 101 in Salisbury is an impeccably clean, 90,000 square foot facility offering 512 storage units. The units are small enough to store a few pieces of furniture, large enough to store a recreational vehicle, and everything in between.
The entire facility is climate controlled, so whether you are storing beloved antiques, archived business documents, inventory, or a high-performance vehicle, your belongings will be safe and secure at CubeSmart. Noted General Manager, Megan Hudson, "We try to accommodate just about anything people may want to store and protect. If you can push it in the facility, we can store it."
Hudson added, "We're essentially your one-stop shop for anything related to packing, moving, and storing your belongings." CubeSmart offers a full line of packing boxes and moving supplies for your convenience. Their experienced staff will also assist you choose the right items for your storing or moving purpose.
"We're here to serve our customers and the communities where we live and work," Dewey noted. "Our teammates are dedicated to volunteering for and supporting charitable causes. That's important to the CubeSmart culture of care."