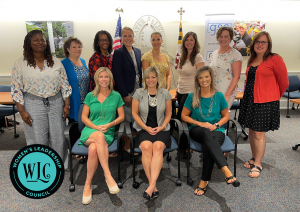 In partnership with the Greater Salisbury Committee, the Women's Leadership Council (WLC) has been established as a community resource for professional women on the shore. The council serves to inspire and empower women in the greater Salisbury area to flourish through assembly and partnership, facilitating the advancement of members as professional leaders in life, work, and community.
The council plans to host community connection events throughout the year. Events will facilitate networking and focus on a variety of topics, including the history of women leaders on the eastern shore, self-defense, women in STEM, diversity and inclusion, and professional development.
Founding member Jessica Eisemann comments on the WLC, "I have been excited about this project for some time. As it comes to life, we expect women will have the ability to come together to develop their natural abilities and excel as leaders of their workplaces and communities across all spheres of society.   I believe this is a partnership that professional women in the greater Salisbury area will benefit from and need. I am honored to work with a wonderful steering committee to bring this idea to life."
The WLC steering committee is made of a diverse group of female leaders from the greater Salisbury area, including Alexis Roskovich, Allison Seth, Amy Miller, Annette Johnson, Ashley Clevenger, Chalarra Sessoms, Christy Weer, Erica Joseph, Gaylena Bivens, Jessica Eisemann, Kate Bleile, Katherine Jones, Kim Gillis, Kim Purvis, Michele Garigliano, Pam Gregory, Parisa Gholamvand, and Samantha Scott.
The first WLC Community Connection Event, Leveraging the History of Women's Leadership for Today's Journey, will be held on September 24th from 9:00 am-11:30 am in Perdue Hall on the campus of Salisbury University. Registration information for the September event will be available soon!
For more information on the Women's Leadership Council email wlcsby@gmail.com.
Follow the WLC on social media at:
Facebook: https://www.facebook.com/wlcsby
Instagram: https://www.instagram.com/wlcsby/
LinkedIn: https://www.linkedin.com/company/wlcsby
Twitter: https://twitter.com/wlcsby