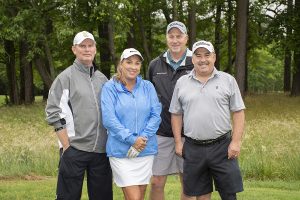 Wor-Wic Community College recently held its 19th annual golf tournament at the college's Ocean Resorts Golf Club in Berlin. Proceeds from the tournament benefit the college's on-campus child development center.
This year's top team with the lowest gross score was the Delmarva Power team of John Petito, Joe and Renee Sheehy, and George Vogelsang, followed by the Avery Hall team of Joe Gast, Mike Mercer, Bill Sterling and Terry White. Third place went to the Hebron Savings Bank team of Tim Boston, Seth Underwood, Ernie Wagner and Sam Witt.
The top team with the lowest net score was the Long and Foster team of Rich Barr, Ryan Johnson, Mike Sullivan and Andrew Wagner, followed by the Aflac team of Dale Cropper, Ryan Goodwin, John Holloway and Brian Shockley. Third place in net score went to the Joseph M. Zimmer Inc. team of Dwayne Austin, Mark Cadwell, Greg Leidy and Jeff White.
Longest drive winners were Claire Barr and Brandon Havas. Winners of the putting contest were Zach Evans and Brad Mogan. Closest to the pin prizes were awarded to Lenny Richardson, Monty Sayler, Joe Sheehy and Mike Sullivan.