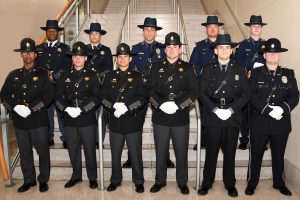 Twenty-five law enforcement officers from Wicomico, Worcester, Somerset, Dorchester, Talbot, Caroline and Kent counties graduated in the 88th entrance-level class of the Eastern Shore Criminal Justice Academy (ESCJA) operated by Wor-Wic Community College at the corner of Route 50 and Walston Switch Road in Salisbury.
Graduation exercises, which were held in the Roland E. Powell Convention Center in Ocean City, featured a commencement address by Marc Junkerman, a retired lieutenant of the Harford Police Department.
John C. Moses, director of criminal justice at Wor-Wic, Donald Rollyson Jr., assistant director of the ESCJA, and Rob Dell'Erba, ESCJA coordinator, presided at the ceremony. Awards of certification and excellence were presented by agency representatives. Aaron Barclay of the Salisbury Police Department was the class speaker.
In addition to Barclay, graduates included Kaila Muniz of the Salisbury Police Department, James Staley of the Salisbury University Police Department, Lucas Bohtling, Evan Gaba and Shawn Hill of the Fruitland Police Department, Jacob Engelskirch of the Delmar Police Department, Steven Abreu, Pedro Brown, David Ferrand and Joseph Pete of the Wicomico County Sheriff's Office, Coleman Bauer of the Princess Anne Police Department, Ray'Ovonte Fitchett of the Pocomoke City Police Department, David Megafu and Austin Mora of the Ocean City Police Department, Benjamin Cropper of the Worcester County Sheriff's Office, Nataly Amaya, Abdul Butt and Craig Lewis of the Cambridge Police Department, Tyquan Beckett and Cory Schuch of the Easton Police Department, William Barnett of the Talbot County Sheriff's Office, Spenser Barnard of the Caroline County Sheriff's Department and Francis Baker and Daniel Parent III of the Kent County Sheriff's Office.