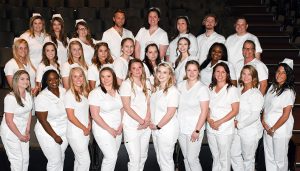 Thirty Wor-Wic Community College associate degree in nursing graduates recently participated in an awards and recognition ceremony.
The ceremony was held at James M. Bennett High School, and featured a keynote address by Sam Driscoll, a 2020 Wor-Wic nursing graduate who is now a registered nurse at University of Maryland Shock Trauma.
Special awards were presented by Dr. Brenda J. Mister, department head and professor of nursing. Victoria Marshall, president of the Nursing Student Organization, was the student speaker.