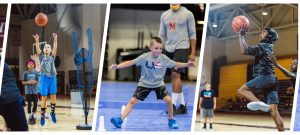 SALISBURY, MD – The Wicomico Youth Basketball League Skills Academy is set to host both a September and an October session this fall.
This program aims to help young athletes grades K-8 learn the fundamentals of basketball in a fun and non-competitive environment. Division I is for grades K-1, division II is for grades 2-3, division III is for grades 4-5 and division IV is for grades 6-8.
Session one begins Sept. 13 and continues through Sept. 29. Session two takes place Oct. 4-20. Both sessions will be held at Bennett Middle School on Monday and Wednesday evenings. Divisions I and II will practice 5:30-6:30 p.m., followed by divisions III and IV taking the court 6:30-7:30 p.m.
The cost is $55 per participant. Registration for the first session is open through Sept. 10 and is available online at www.WicomicoRecandParks.org and in person at the Wicomico Civic Center box office (Monday-Friday, 9 a.m.–6 p.m.). Contact Andrew Bugas at 410-548-4900, ext. 113, or email abugas@wicomicocounty.org.