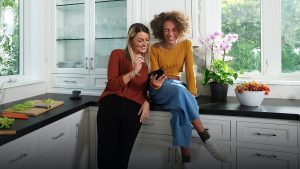 Customers Who Sign Up for a Line of Unlimited Can Get an Additional Line of Unlimited Intro
Free for One Year – a $360/year value
Philadelphia, PA – Xfinity Mobile, one of the fastest growing mobile providers in the country with more than six million customer lines and growing, is kicking off the holiday season early this year and giving customers another reason to break free from the industry's "big three". Now through January 10, new and existing Xfinity Mobile customers can get one line of Unlimited Intro free for one year – a $360/year value – when they sign up for a line of Unlimited.
"So many people are just finding out about the exceptional mobile experience Xfinity Mobile has to offer," said Kohposh Kuda, Senior Vice President of Xfinity Mobile. "We wanted to give people the opportunity to share that experience with family and loved ones on their plan. And with the holidays approaching, we couldn't think of a better way to give the gift of savings to both new and existing customers."
The Fastest Service Offering Big Savings
Xfinity Mobile is the fastest mobile service in Comcast service areas by combining 5G and millions of WiFi hotspots*. Xfinity Mobile pricing is some of the most competitive in the industry with the best price for two lines of Unlimited at $30/month, saving customers hundreds of dollars per year when they switch from AT&T, T-Mobile, and Verizon.
Unbeatable Convenience
Xfinity Mobile offers unparalleled convenience by offering customers a choice of Unlimited or By the Gig options to customize a plan to meet their unique needs. Customers can also change their plans, even in the middle of their billing cycle, and manage every aspect of their account through the Xfinity app.
It's Easy to Switch
Switching to Xfinity Mobile is simple. Customers can visit an Xfinity Store and have a member of the Switch Squad handle the process, or a DIY activation, digitally, in the comfort of their homes. The entire process only takes a few minutes. Customers looking to take advantage of the new BOGO Unlimited deal also have the option of either buying a new device or bringing their own.
To learn more about Xfinity Mobile visit www.xfinity.com/mobile.
*Based on consumer testing of mobile WiFi and cellular data performance from Ookla® Speedtest Intelligence® data in Q3 '23 for Comcast service areas, including its WiFi footprint, verified by Ookla for Comcast's analysis.
About Comcast Corporation
Comcast Corporation (Nasdaq: CMCSA) is a global media and technology company. From the connectivity and platforms we provide, to the content and experiences we create, our businesses reach hundreds of millions of customers, viewers, and guests worldwide. We deliver world-class broadband, wireless, and video through Xfinity, Comcast Business, and Sky; produce, distribute, and stream leading entertainment, sports, and news through brands including NBC, Telemundo, Universal, Peacock, and Sky; and bring incredible theme parks and attractions to life through Universal Destinations & Experiences. Visit www.comcastcorporation.com for more information.