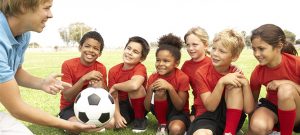 SALISBURY, MD – The FUNdamental Soccer program is a six-week training program led by USSF D Licensed Coach, Rusty Brown. It aims to teach youth players the foundations and fundamentals of soccer in a fun and nurturing environment.
Practices and games will take place on Saturday mornings at Winterplace Park. There are two age divisions; U6-U8 and U10-U12. The season begins April 10 and continues through May 22.
Registration is open March 1-31. Fees are $40 a player and include a soccer ball.
The program is also in search of parents and/or volunteers to help manage drills and games as volunteer development coaches. A general knowledge of soccer is preferred, but not required. The volunteer development coaches must be able to physically demonstrate soccer skills and coordinate small groups of kids.
Registration is available at the Wicomico Civic Center box office (Monday-Friday, 9 a.m.–3 p.m.) and online at www.WicomicoRecandParks.org. Contact Andrew Bugas at 410-548-4900, ext. 113, or email abugas@wicomicocounty.org.
Our highest priority is the health and safety of our program participants. All programs are subject to change. Updates will be shared with the press, as well as posted to department websites and social media outlets.