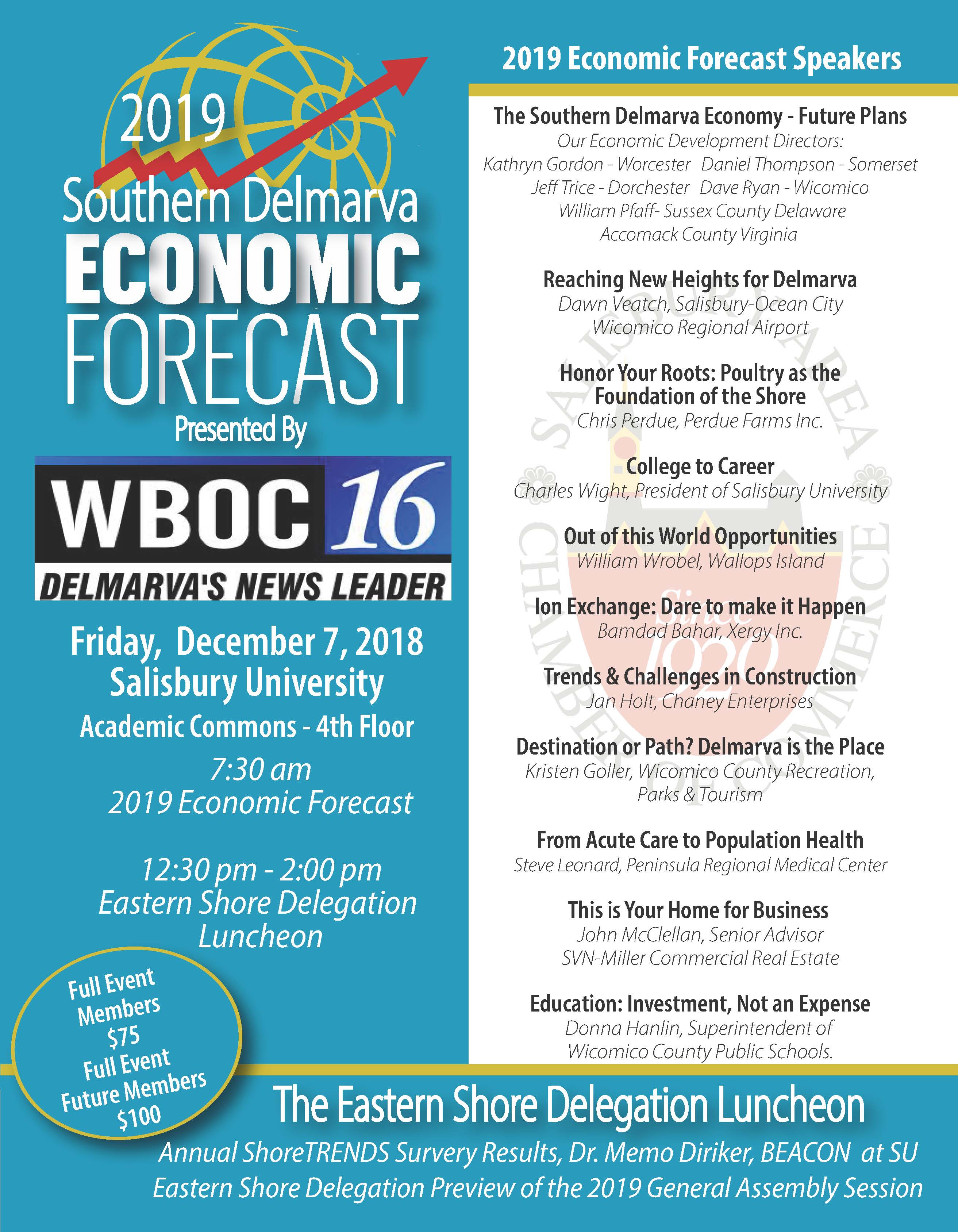 Annually, the Salisbury Area Chamber of Commerce hosts its "Economic Forecast," a forum composed of presentations by business and community leaders in the area to give a predicative overview of the year to come in all facets of life on Delmarva. This year's subjects are slated to include:
"The Southern Delmarva Economy – Future Plans" with Economic Development Directors from:
Kathryn Gordon of Worcester County, Daniel Thompson of Somerset, Jeff Trice of Dorchester, Dave Ryan of Wicomico, William Pfaff of Sussex County, Delaware, and Julie Bellamy of Accomack County, Virginia, "Reaching New Heights for Delmarva" by Dawn Veatch, of Salisbury-Ocean City Wicomico Regional Airport, "Honor Your Roots: Poultry as the Foundation of the Shore" by Chris Perdue of Perdue Farms Inc., "College to Career" by Charles Wight, President of Salisbury University, "Out of this World Opportunities" by a representative of the Wallops Island Flight Facility, "Ion Exchange: Dare to Make it Happen" by Bamdad Bahar of Xergy Inc., "Trends & Challenges in Construction" by Jan Holt of Chaney Enterprises, "Destination or Path? Delmarva is the Place" by Kristen Goller of Wicomico County Recreation, Parks & Tourism, "From Acute Care to Population Health" by Steve Leonard of Peninsula Regional Medical Center, "This is Your Home for Business" by John McClellan, Senior Advisor at SVN-Miller Commercial Real Estate, and "Education: Investment, Not an Expense" by Donna Hanlin, Superintendent of  Wicomico County Public Schools.
Following the Forecast, the entire Eastern Shore Delegation congregates in a forum for their thoughts on what will be the "hot button" issues for the upcoming Maryland General Assembly session. The panel has a moderator overseeing the Q & A.
The event begins at 7:30 a.m., December 7 in the Academic Commons at Salisbury University, on the fourth floor. Tickets are $75 for Chamber members, and $100 to future members. They are available at
Salisburyarea.com
or by calling Lauren Barnas, Director of Chamber Events at 410-749-0144.