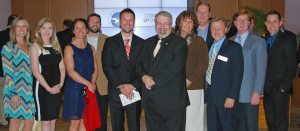 The Salisbury Area Chamber of Commerce held its 94th Annual Banquet Ceremony and Installation of Officers and Directors on Wednesday, April 16, 2014 at Salisbury University Perdue Hall Atrium.
Dr. Memo Diriker was announced as the 2014-2015 Chamber President at the banquet. Dr. Diriker is the Founding Director of the Business, Economic, and Community Outreach Network (BEACON).  BEACON is the premier business and economic research and consulting unit of the Franklin P. Perdue School of Business at Salisbury University.  As the Director of BEACON, Dr. Diriker advises a large number of private, public, and nonprofit sector organizations. Dr. Diriker has authored a book and many articles in academic and practitioner publications, and is a sought-after public speaker.  Dr. Diriker is the recipient of many honors and awards and is active on boards and committees locally and around the state.
SACC also announced the 2014-2015 Executive Committee, Chamber Board members and the Chamber Council at Large.
Executive Committee                                               Board Members                        Chamber Council at Large
Dr. Memo Diriker, President                                          Heather Duma                                Dr. Ayodele J. Alade
Tony Nichols, President Elect                                        Chris Eccleston                               Ed Cowell
Michael Kleger,Treasurer                                                Kim Gillis                                         Dr. Carolyn Elmore
D. Nicole Green, Legal Counsel                                     Craig Jahelka                                   Roxane Gabrielson
Bradley J. Gillis, Immediate Past President               Jenni Pastusak                                Christopher Hall
Robert Sheehan                                                                Jayme Hayes
Mike Weisner                                                                   Jamie Heater
Melodie Carter                                                                 Roxanna LaGuerre
Kevin Justice                                                                    Christopher Maas
Charlie Moore
Bak Patel
Michael Pennington
Greg Reddell
Scott Saxman
Craig Schury
Wayne Strausburg
Dr. Bob Wood
The winners of the following annual Chamber awards were announced.
Awards
– Member (Volunteer) of the Year Award – Melodie Carter of Hebron Savings Bank.
Presented by Chris Hall of Peninsula Regional Medical Center
– Recruiter of the Year Award – Bradley Gillis of Sperry Van Ness-Miller Commercial Real Estate
Presented by Kevin Justice of Matice Interactive
– Small Business of the Year – Main Roots Coffee
Presented by Tony Nichols of BBSI
– Medium Business of the Year – APPI Energy
Presented by Fred Baker of Comcast Spotlight

– Large Business of the Year – Hebron Savings Bank
Presented by Stephen Franklin of Accurate Optical
– Businessman of the Year – Greg Johnson of Hebron Savings Bank
Presented by John Petito of Delmarva Power
– Businesswoman of the Year – Susan Purnell of Kuhn's Jewelers
Presented by Bradley Gillis of Sperry Van-Ness Commercial Real Estate
– Young Professional of the Year – Heather Duma of Congressman Andy Harris' Office
Presented by Sandy Fitzgerald-Angello of Pohanka Automotive
– Environmental Service Award – The Salisbury Zoo
Presented by Jane Seagraves of APPI Energy
– Agriculture Ambassador of the Year – Matt Holloway of the Wicomico County Council
Presented by Dr. James McNaughton of AHPharma
– Non-Profit Organization of the Year – Main Street Gym
Presented by Dwight Miller of Gillis Gilkerson
– Humanitarian Award – Sandy Fitzgerald-Angello of Pohanka Automotive
Presented by Susan Megargee of Remax Crossroads
– Chamber Award – Susan Purnell of Kuhn's Jewelers
Presented by Dr. Memo Diriker of BEACON