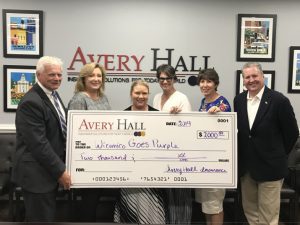 Wicomico Goes Purple is proud to announce that Avery W. Hall Insurance Agency has joined our list of supporters by becoming a Gold Sponsor with a donation of $2000.
Pictured are Kevin Hayes, COO, Kathy Bennett, VP, Stephanie Willey, Chair Wicomico Goes Purple, Karri Todd, Account Executive, Jill Long, CFO, and Bill Chambers, CEO Salisbury Area Chamber of Commerce. Wicomico Goes Purple is an addiction awareness campaign focusing on the dangers of substance misuse. Wicomico County will be "Going Purple" in the month of September which is National Recovery Month.
The inaugural Wicomico Goes Purple initiative will hold a press conference on June 21, 2019 at 5:30PM on the Plaza in downtown Salisbury Maryland. This also coincides with "Third Friday" on the downtown plaza.
Honorary Co-Chairs for Wicomico Goes Purple, States Attorney Jaime Dykes and Wicomico Sheriff Mike Lewis, will be on hand to formally announce this initiative and answer questions from the media. In addition, announcements will include the multitude of events associated with the initiative that are scheduled for the summer and September, which is National Recovery Month.
Join the voices for Recovery: Invest in Health, Home, Purpose, and Community.
Wicomico Goes Purple: Get the Facts; Get Involved; Start Talking.
For more information, please visit our website at wicomicogoespurple.com.