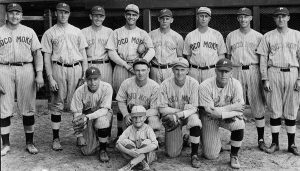 SALISBURY, MD—Salisbury University's Edward H. Nabb Research Center for Delmarva History and Culture, in partnership with the Eastern Shore Baseball Hall of Fame Museum, invites those with photos and memorabilia from semi-professional Eastern Shore baseball teams of the mid-20th century to take them out to the ballgame on Saturday, July 6.
Those bringing items to the museum at Arthur W. Perdue Stadium from 6-8:30 p.m. will have the opportunity to have their materials scanned or photographed as part of the Nabb Center's efforts to chronicle Eastern Shore baseball history. Materials will remain with the owner throughout the on-site scanning and photographing process.
The initiative, expected to provide a digital archive for those researching the region's baseball heritage, as well as materials for an exhibit at SU next spring, is funded by a competitive grant from the National Endowment for the Humanities' Common Heritage Program.
Admission to the Eastern Shore Baseball Hall of Fame Museum is free. Parking fees will be reimbursed for those bringing items for the initiative. A separate admission applies for those wishing to attend that evening's Delmarva Shorebirds game vs. the Hagerstown Suns.
For more information call 410-543-6012 or visit the Nabb Center website at www.salisbury.edu/nabb.