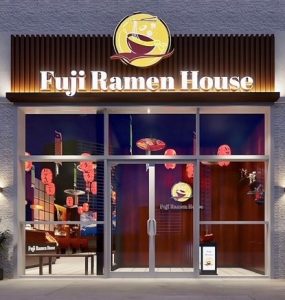 A hearty crowd of 70+ curious foodies joined the Salisbury Area Chamber of Commerce as we celebrated the grand opening of our latest restaurant in town, Fuji Ramen House with a ribbon cutting on November 15, 2023.
Open Tuesday to Sunday, Fuji Ramen House is located at 800 S Salisbury Blvd, Unit G in Salisbury, and offers a wide array of authentic Japanese food that includes 13 Ramen options, Donburi (Rice Bowls), Pork Gyoza, Japanese curry, mochi ice cream and much more!
The completely renovated restaurant, is owned by Jack Chen, who owns 4 other restaurants including next door East Moon Japanese Steakhouse. As you walk in, it gives you the feel that you are in an authentic Japanese restaurant. Chen was delighted to have such a great turn out at the ribbon cutting and shared "I am thankful for all of you here. Always happy to open new restaurant, and a Ramen House was much needed here in Salisbury. Special thanks to SVN Miller for finding this location, and our contractors for doing such a great job. Thank you for supporting us and come visit us again soon.
Guests enjoyed samples of samples of their food that included chicken karaage, pork gyoza, and pork ramen. Lucky winners Katelyn Nagler, David Livingston, Amy Isaacs and Mirela Hardy won a gift card to dine at Fuji Ramen House.
To view their menu or order online visit http://fujiramenhouse.com or call (410) 376-8888.