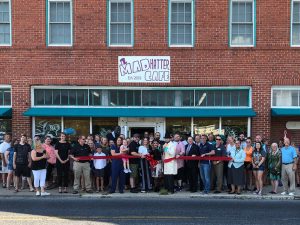 The house was packed as Chamber members, friends and foodies gathered on June 27, 2019 for The Mad Hatter Café grand opening and ribbon cutting
"The Hatter Himself," Jeremiah Burns, and Executive Chef Daniel Mears, operating with 360 Investments, offer a unique approach to breakfast and lunch with a "Mad" twist. There is something for everyone – whether you're a meat-eater, vegan, gluten-free or omnivore – you will eat something delish and nutrish because one thing every dish has in common is fresh, local and seasonal products.
During the grand opening, guests enjoyed menu items including petite Duchess Pancakes with Ricotta Cheese & Lemon Zest, Homemade Sausage Gravy, and 'Bury Bulgogi (fire roasted Korean barbeque.)
Never short on words, Jeremiah Burns shared his ever-expanding vision for the Mad Hatter Café which is much more than food.  "We want to raise the collective consciousness about the value of gathering.  It begins with food and fellowship, but involves educating people about their value, the way they dress, and how they engage with each other," exclaimed Burns. "Of course, we want you to eat well, but we also want people to know about the food they eat and why eating local matters. We want you to know about being healthy by avoiding pesticides, GMOs and steroids."
Be on the look-out for information about The Mad Hatter Café's cooking classes, private dinners, and self-improvement sessions.  "When you feel better about yourself, you'll walk taller, you'll talk better and you'll be better," Burns asserted. "That's not just good for individuals, that's good for our community."
Mears graciously thanked all who gathered to support The Mad Hatter Café, and noted, "After years of digging deep, overcoming obstacles and winning awards for my food, I'm here to serve and build up our community. That's what we're really about."
The Mad Hatter Café is located at 501 W. Main Street in downtown Salisbury.  The restaurant is open Tuesday through Saturday from 8:00 AM to 4:00 PM.