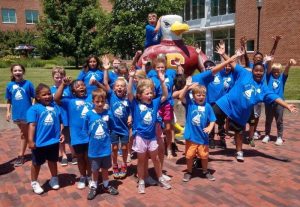 Children ages 6-12 were supported in their grief journey in a safe environment
SALISBURY, MD – JULY 11, 2019 – For the past five years, Coastal Hospice and Salisbury University's School of Social Work have partnered to provide three days filled with healing, fun, and lots of love to children ages 6-12 who have recently lost a loved one. From the Opening Night Family Party on Monday, June 24, to the Family Closing Ceremony on Thursday, June 27, the organizers of Camp Safe Harbor were on hand to support 26 children in their grief journey.
Coastal Hospice staff and volunteers and Salisbury University's School of Social Work staff and students joined together to run the annual camp, where counselors experienced in grief support helped the children work through the loss of a parent, grandparent, sibling, or loved one. Fun activities such as arts & crafts, games, support circles, music, and sports activities helped each child heal in their own unique way.
"Camp Safe Harbor offers children a safe space to share about their loved ones who have died, to explore the many emotions that accompany their grief and to experience some tools that they can use to gain strength and confidence in coping with their loss," said Sharon Hutchison, Spiritual Care Services Manager.
Blending fun with support and healing allows the campers to open up, and camp organizers from both Coastal Hospice and Salisbury University recognize the impact it's made on the children.
"This camp is such an amazing partnership between Coastal Hospice and the School of Social Work at Salisbury University," said Dr. Kimberly Van Vulpen, Associate Professor of Social Work. "The connections made between the children and all the camp staff are what makes Camp Safe Harbor so helpful. The children can arrive each day to camp knowing that everyone there understands their story. They no longer have to feel different."
Camp Safe Harbor will be available again for children in June 2020. Please contact Coastal Hospice for more information.
Do You Know Coastal Hospice & Palliative Care?
Founded in 1980, Coastal Hospice is a non-profit health care organization that cares for individuals facing life-limiting conditions but do not want to be defined by them, and instead want to remain as active and engaged as possible during the final chapter of their lives. Coastal Hospice cares for patients in their own homes, as well as in nursing homes, assisted living facilities, at Coastal Hospice at the Lake and the new Stansell House. The organization also provides "palliative" care which treats the symptoms and relieve the pain of a terminal illness or injury so that patients can enjoy the time remaining. Learn more about Coastal Hospice at www.coastalhospice.org and follow on Facebook and Instagram.
Salisbury University
Salisbury University's School of Social Work offers bachelor's and master's programs, with options on campus, online and at satellite sites across Maryland.  The school is part of the SU's new College of Health and Human Services.  For more information visit www.salisbury.edu/chhs.