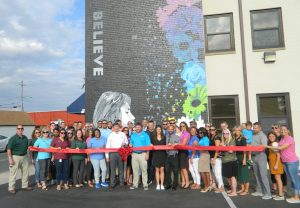 By Cathy Diekmann
The typical September heat and humidity on Delmarva did not deter nearly one hundred Chamber representatives, friends, and family of Delmarva Veteran Builders (DVB) and APPI Energy from gathering for a ribbon cutting to celebrate the relocation of their respective businesses in downtown Salisbury.
The evening kicked off by recognizing Brandon Bell and Deserea Martin, local artists who have created a mural on the west side of DVB's building. DVB Founder and President, Chris Eccleston, invited the pair to paint whatever they wanted. They chose the theme "Believe" as a statement of encouragement to the community. Bell explained, "Anyone who's been to heck and back knows that overcoming obstacles or making good things happen starts with believing what's possible."
Eccleston founded Delmarva Veteran Builders in 2013 with one employee (himself) and little more than the belief that the commercial building industry could offer a better process, experience, and service to customers, employees, and the community. He has since grown the company to employ 26 people and has managed over $100 million in commercial construction projects. Eccleston thanked his wife, family, and many colleagues and friends for helping DVB grow and succeed.
Founded by Walt Moore in 1996, APPI Energy is a data-driven energy procurement and consulting business. Similar to Eccleston, Moore began his business employing only himself and a belief that great things were possible. APPI Energy now employees 51 people and serves commercial and industrial clients throughout the deregulated United States. Moore admitted that he had no interest or intention to move his business downtown until Eccleston invited him to check out some available property. "I could sense the culture that downtown had to offer. It was a great move for my employees and business."
After the ribbon cutting ceremony, colleagues and guests continued the evening with networking and enjoyed delicious food from Roadie Joes Bar and Grill.
Does your Chamber business have an anniversary or business milestone to celebrate? Contact Cathy Diekmann, SACC Director of Membership Services, for information about how to host a Chamber ribbon cutting.