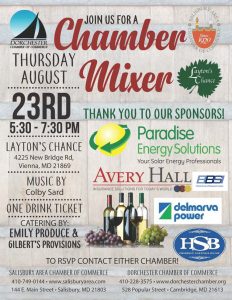 Enjoy great food, wine and live entertainment by Colby Sard in a beautiful vineyard setting. Join us for an exclusive chance to network and socialize with both Dorchester and Salisbury Area Chamber Members! Food by Emily's Produce and Gilbert's Provisions. Last year's event included over 150 Chamber members! The event is free for Chamber members and $10 for future members.
Menu from Gilbert's Provisions to include:
PROSCUITTO AND GRUYERE WITH AIOLI ON SOURDOUGH
MUSHROOM DUXELLES TART WITH EGG YOLK SAUCE AND HERBS
SMOKED FISH PATE ON PETIT TOASTS
OLD BAY DEVILED EGGS WITH NORTH CAROLINA CAVIAR
ZUCHINNI HUMMUS AND FERMENTED GARLIC RANCH WITH CRUDITE
For more information contact the Salisbury Chamber at lbarnas@salisburyarea.com or 410.749.0144.