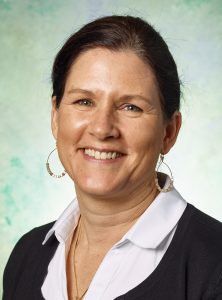 Dr. Kathryn Fiddler, MS, RN, NE-BC, Peninsula Regional Health System (PRHS) and Peninsula Regional Medical Center's (PRMC) Vice President of Population Health, was recently named One of Maryland's 2019 Top 100 Women by The Daily Record.  The Baltimore business publication has been recognizing outstanding accomplishments, community leadership and mentoring demonstrated by women since 1996.
 "This year's Maryland's Top 100 Women are leading companies, charting new territory and inspiring the next generation. They are truly outstanding role models for all of us," said Suzanne Fischer-Huettner, Publisher of The Daily Record. "They show compassion and commitment to help others and to shape their communities. The Daily Record is honored to recognize their many achievements."
Nominees, including Dr. Fiddler, were asked to complete an application outlining their educational and career history, professional and community involvement, corporate and nonprofit board memberships and mentoring experience. A panel of business professionals and previous Maryland's Top 100 Women honorees from throughout the state reviewed the final applications and selected this year's honorees.
William D. Mills, Lt. Col., USAF, Chief, 512th Airlift Wing Intelligence, Dover AFB, DE, who served with Dr. Fiddler in the United States Air Force, said in his nomination letter, "I know of no other who is better qualified
for this recognition. She excels at achieving key leadership expectations, is dedicated to the service of her community, and has mentored personnel she has worked with over the past several decades.  Her career has been solely dedicated to serving the community."
Prior to returning to PRMC in 2016, Dr. Fiddler worked for CareFirst in Baltimore, as Senior Director for one of the largest Patient-Centered Medical Home (PCMH) programs in the country.  As well as being an RN, she is a retired Major from Dover Air Force Base, DE.  She earned both her Master's of Nursing and her Doctor of Nursing Practice degrees from Salisbury University.  Her nursing career began in the PRMC Emergency Department.
In her senior leadership role, Dr. Fiddler is responsible for population health initiatives across the continuum of care.  She has led the transition of Population Health for PRHS to a program that now touches thousands of people on the Delmarva Peninsula.   Using its Wagner Wellness Van and other opportunities to reach people directly where they live, the PRMC Population Health team focuses their educational messages and preventative screenings on what everyone can do to live a healthier and more productive lifestyle.
The Maryland's Top 100 Women awards celebration will be held on April 15 starting with a reception at 5 p.m. at Joseph Meyerhoff Symphony Hall in Baltimore.