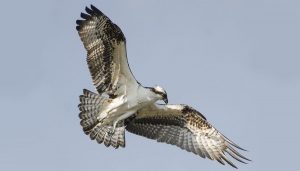 SALISBURY, MD—Dr. Paul Spitzer concludes this semester's Salisbury University Environmental Studies Colloquium Series with his presentation "The Dark Side of the Loon" 5:30 p.m. Wednesday, April 17, in Perdue Hall's Bennett Family Auditorium.
An ornithologist, Spitzer earned his Ph.D. in ecology and evolutionary biology from Cornell University in 1980. He has researched loons since the late 1980s, beginning in Maryland's lower Choptank River after he observed flocks of autumn stopover loons feeding on menhaden in Chesapeake Bay tributaries.
"Studying this little-known phenomenon, I realized that most of common loons' winter and migration biology was not well known or understood," he said. "Occasional large die-offs remained unexplained. My 30-year research quest followed on all three North American coasts. These ecocultural adventures have taken me from Canada's huge, cold Gulf of St. Lawrence to the Gulf of Mexico in Louisiana, Mississippi and Florida."
Sponsored by the Environmental Studies Department, admission is free and the public is invited. For more information call 410-543-8105 or visit the SU website at www.salisbury.edu.