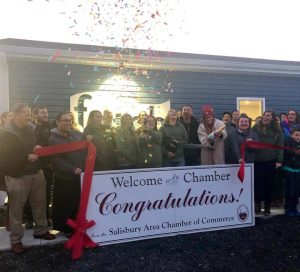 (Salisbury, Md., January 17, 2019) – On January 16, 2019 the people of Fetch Dog Company called all dog owners to Fruitland, Md. to join in the celebration of their opening and show that they are ready to take care of man's best friend.
The celebration convened all dog lovers, customers of the company, supporters, and well-known members in the community to witness a new dog facility and see the three owners, Abby Morells, Marissa Petrack, and Alana McGeehan cut the ribbon to commemorate their grand opening.
Petrack introduced the team of girls to the guests and was not hesitant to thank those who assisted in developing their facility of their company. She also described and explained their services and their excitement as they have moved forward in this process.
"I want to give a shout out real quick to my other business partners who have lovingly supported us through this journey. Also, there were some carpenters who helped literally make this happen for us. Bret Davis and his company built this facility. We opened here November 5th. We do day care, Monday through Friday every week. We have a great troupe of girls who do dog walking and pet sitting and although some could not be here with us tonight we love and thank them for their time," Petrack said.
The dog loving trio of young women work together to ensure the best care and attention are given to each pet who walks into their program. They have orchestrated a system and organized plan that they believe will send a dog home with the right mindset.
"Really, we do a lot of training. Our basis of day care is very structured – so while there is a lot of fun and free time for your dog, there is a lot of structure implemented so that your dog learns and it goes home and acts right. Manners are a big thing with us so we try to instill good manners in the dogs, but we also like a healthy amount of play so there are a ton of fun things that go on, but structured play really is our bread and butter in socialization."
The party continued outside for the official countdown and ribbon cutting to commemorate celebrate their businesses. After, guests were invited to look around the new facility, enjoy light refreshments, mingle with other guests, and share dog training tips.
Fetch Dog Company is a locally owned and operated facility that offers many amenities to any four-legged owner such as: doggy day care, dog sitting, dog walking, dog training and more. They are located in Fruitland, Md. However, they also serve pet owners in Dorchester, Md., Worcester Md., Somerset. Md., and Sussex, De.
For more information about Fetch Dog Company visit their website at https://www.fetchdogco.com/ or call "the dog girls" at 443-736-3077.