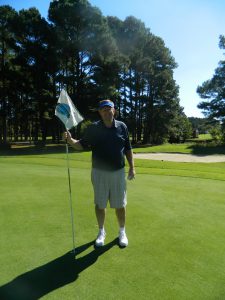 The Salisbury Area Chamber of Commerce held it's Inaugural Golf Classic last Friday, September 29 at Green Hill Country Club. The tournament played host to 22 teams, and was generously sponsored by Spicer Brothers Construction, Inc., as well as Avery Hall Insurance, Pohanka Automotive of Salisbury, Devreco Development Real Estate Company, Comcast Spotlight, and CQI Associates. Evolution Craft Brewing Co. served as the official Beer Sponsor, and Pepsi as the official Soft Drink Sponsor. Spicer Brothers had the first Interactive Hole at hole one. "Interactive" holes, afforded sponsors the opportunity to post signage, have tents, games, contests, drinks, and more.
WBOC, Delmarva's News Leader, had their Chopper 16 perform the first ever, "50/50 Raffle Ball Drop", in which they dropped golf balls directly onto the Driving Range. The balls were numbered one to 142, and the numbers were
sold at registration for raffle, the goal being to have the ball closest to the hole. The winner, Phil Lovell received $617.50 with the winning ball 123.
However, it was Brian Holland, who played with PKS & Company, PA's team who got a Hole in One on Hole 14, one of the special "Interactive Holes" sponsored by Pohanka Automotive of Salisbury. Holland won $25,000 towards the purchase or lease of a Pohanka Automotive Vehicle and a $500 Visa Gift Card from Avery Hall Insurance.
Other winners of the day included, first place gross of 52, Pohanka Automotive of Salisbury, with team Members Sandy Angello, Steve Emely, Jim Chaney, and Mark Keplinger.
Second place gross winners were Ray Hoy, Greg Thompson, Michael Kennedy and Greg Bassett of the Salisbury Independent's team with 54.
Third place gross went to Christian Phillips, Jeff Auxer, Brandon Tolan and Jimmy Oh of the Devreco Development Real Estate Company Team with 59. The Chamber thanks Devreco for their sponsorship and anticipates their participation next year!
First place net was awarded to the Gladden Construction team, Mitch Wyatt, Everett Elliott, Jamie Gladden, and Dean Gladden with 45.5.
Second place net went to Andrea Berstler, Curt Berstler, Jo Ehinson, and Margaret Hinson with 48.
Third place gross was given to Ralph Davis, Linda Davis, Try Davis, and Cindy Chambers finishing with 51.5.
Tony Nichols, Mike Eusebio, Phillip Cheung, and Brian Murphee had the high gross, of 72, winning a round of Putt Putt at Old Pro in Ocean City.
Closest to the pin went to Greg DeHaas, with 4 feet 9 inches.
Ladies closest to the pin went to Andrea Berstler, with 3 feet 2 inches.
Long drive for men went to Steve Emely.
Long drive for women went to Linda Davis.
Many of the Sponsors had interactive holes as well,  including Avery Hall who had a "drive the marshmallow" contest, to see who could attempt to drive a marshmallow the farthest. The winner, Mike Larkin, on one of the Spicer Brothers' teams, won a $25 Amazon Gift Card.
Comcast Spotlight sponsored our "putting contest." The winner was Everett Elliott of Gladden Construction.
Value Carpet One literally rolled out the red Carpet for players during the event.
WBOC got festive, bringing  homemade margaritas.
Joe Tabeling, of CQI Associates, shared some insight into the Chamber's energy Co-op program during the awards luncheon.
The players were fortunate enough to enjoy endless IPAs, Pilsners, Soft Drinks, and Waters
during the Tournament thanks to Evolution Brewing Co. and Pepsi's incredibly sponsorship.
The SACC wants to personally thank all that came out to play this year, all the sponsors, all those who purchased signage, including tee signs, and our gracious and patient volunteers. They also thank Green Hill Country Club for being so welcoming and assisting them with their every need.
The event was a huge success, and the Chamber looks forward to making next year even bigger and better.
For more photos of the event: Click here.