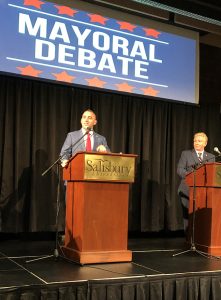 The Salisbury Area Chamber of Commerce in partnership with The Greater Salisbury Committee and PACE at Salisbury University, sponsored the sole citywide Mayoral forum on Wednesday evening at Salisbury University.
A packed house of more than three-hundred attendees heard from incumbent Salisbury Mayor Jake Day and his challenger Wayne King. It was a spirited forum between the two who addressed City issues including economic growth, job creation, public safety and City services in general.
Aside from questions posed from the panel of organizations, audience questions were also a part of the forum.
The forum was moderated by Ryan Eldredge – WMDT, and the panelists included Mike Dunn, President & CEO, Greater Salisbury Committee, Bill Chambers, President of SACC and Dr. Sarah Surack of PACE.
The election for Mayor and City Council will take place on November 5th. A complete list of City polling sites is available at www.salisbury.md.