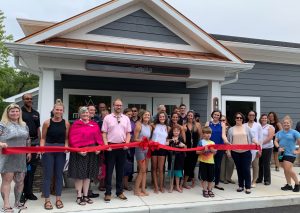 By Cathy Diekmann
Salisbury Area Chamber of Commerce representatives and friends of Meta Yoga gathered for a ribbon cutting August 15, 2019.  Located at 2324 W. Zion Road, Unit 101, Meta Yoga is a new Chamber member and the only yoga studio located on the north end of Salisbury.
After years of thought, discussion, personal yoga practice and certification, co-owners and former art teachers, Dana Fields and Travis Lancaster took the leap to create Meta Yoga.  Here they share their vision and love of yoga with the Eastern Shore community. They believe that a regular yoga practice can transform one's physical and mental self for the better. Their purpose is to provide a beautiful space, full of loving kindness, where students can challenge and transform themselves.
Fields explained, "We chose the name Meta Yoga because 'meta' is short for metamorphosis – to transform or change the nature of a person into something completely different."  Lancaster added, "It's not just about the body, though it's fine if you want to change or improve your body. Meta is a term that is self-referential. Yoga is a journey of the self, though the self, to the self."
Salisbury City Administrator, Julia Glanz congratulated the Meta Yoga team on making their dream into a reality. "We applaud your efforts and appreciate your vision.  The City of Salisbury is also engaged in a metamorphosis, change for the better, to meet the evolving needs and interests of our citizens."
Meta Yoga offers a wide variety of classes throughout the day led by a host of different yoga teachers.  Most, but not all, classes are held in a hot or warm studio. The increased temperature provides an environment that softens the students' joints and muscles, encourages blood flow and is good for the skin.  Classes range from beginner to advance and feature a multitude of yoga styles.
To learn more about Meta Yoga, check out their website at https://metayogasalisbury.com/index.html
Is your business a Chamber member?  To learn more about the benefits and opportunities of membership with Salisbury Area Chamber, contact Cathy Diekmann, Director of Membership at 410-749-0144 or