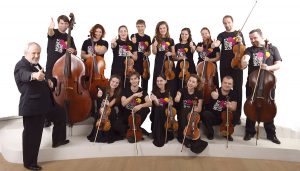 SALISBURY, MD—The Peter and Judy Jackson Chamber Music Festival brings two ensembles to Salisbury University in March.
The Morgenstern Trio performs Monday, March 25, in the Great Hall of Holloway Hall. The Russian String Orchestra (formerly known as the Chamber Orchestra Kremlin) takes the Holloway Hall Auditorium stage on Wednesday, March 27. Both concerts begin at 7 p.m.
Named for 19th-century German poet Christian Morgenstern, the Morgenstern Trio has performed at Carnegie Hall and the Kennedy Center for the Performing Arts and won some of chamber music's top prizes, including the U.S. Kalichstein-Laredo-Robinson Trio Award. Its members — pianist Catherine Klipfel, violinist Stefan Hempel and cellist Emanuel Wehse — met during their studies at Germany's Folkwang Conservatory.
Called Moscow's finest young string ensemble, the Russian String Orchestra returns to SU with its trademark virtuosity, high energy and warmth under the direction of founder Misha Rachlevsky. The group has earned Critics Choice awards from The New York Times and London's Gramophone, as well as a Record of the Year award in Hong Kong. Its appearance is co-sponsored by World Artist Experiences, Inc.
In honor of the orchestra, SU Dining Services hosts a Russian dinner 4:30-7:30 p.m. Wednesday, March 27, in the Commons.
The menu includes chicken Kiev, kartoshnik (potatoes), kotlety (flavored ground beef patty), Azerbaijan pilaf (rice pilaf with sesame seeds), lobbio (green beans with tomato and green peppers), sweet zucchini pancakes, pickled beets, lemon curd tiramisu and specullos russes (cookies).
Admission to the dinner is $14.20, $8.55 for children 5 and under. Reservations are not required.
Sponsored by SU's Cultural Affairs Office, admission to the concerts is free and the public is invited. Tickets are not required.
For more information call 410-543-6271 or visit the SU website at www.salisbury.edu.