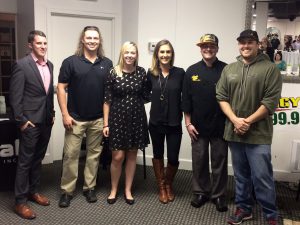 This past Tuesday, October 17, marked the 10th Annual Salisbury Area Chamber Young Professionals Taste of the Town event. The event started as a small networking event, and has since grown to be one of the largest fundraising and networking opportunities the Chamber
presents. It is also an excellent opportunity for Chamber member restaurants to showcase their culinary abilities in a head to head battle, each bringing one dish to tempt attendees palettes. After sampling, guests vote on who they believe is the truly "The Taste of the Town."
Eight restaurants competed this year, including: Abbott's On Broad Creek, Adams Ribs, Evolution Craft Brewing Company Public House, Vittles Food Truck & Catering, Back Street Grill, The Rabbit Hole, Roadie Joe's Bar and Grill, Two Live Crudo with Paul G. Suplee of Catering by Chef Suplee and Toby Gilbert of Gilbert's Provisions, and Adams Taphouse Bar and Grille. Dessert was presented by Cake Art, coffee supplied by Rise Up Coffee Roasters, wine came from Layton's Chance Vineyard & Winery,and Bordeleau Vineyards & Winery.  and Beer was provided by Eastern Shore Distributing. Music was supplied by Tom Bryant. 
Dishes ranged from all corners of the culinary spectrum. There were seafood hot dogs, lobster rolls, goat cheese bruschetta, brussel sprouts with salmon, and more.
In the end it was however, Roadie Joe's Bar and Grill, represented by the Chef Jason Myers, who took home the prize. Myers presented edamame wontons that blew tasters away. For their success, the restaurant took home a cash prize and receive a plaque designating their win.
Owner Jeremy Norton said of the event, " I thought the event was great and everyone really brought something different to the table this year, there were so many unique options that these amazing local restaurants put out, it was hands down the "foodie" event of the year. We cant wait to return and defend our title."
Chef Myers said he appreciated the opportunity to pick the brains of other chefs.
"All the chefs said it was fun and we got to socialize and talk about other chef inspired events."
Taste of the Town is a wonderful chance to experience all that the local restaurants have to offer. 
For more photos, click here: https://www.facebook.com/media/set/?set=a.1723140021042939.1073741834.150387998318157&type=1&l=c8037f32c7