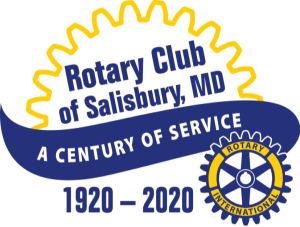 During the Rotary Club of Salisbury's Centennial year, the club is having monthly programs related to its history. On October 10, Rotarian Darryl Nixon will focus on the history of broadcasting on Delmarva, and explain how several members of the Rotary Club of Salisbury led the way to developing broadcast media in the region.
Nixon has been an Account Manager with WBOC-TV for twenty years. Prior to joining the WBOC-TV, he owned several radio stations, including OC104FM.
Annually, The Rotary Club of Salisbury channels nearly $90,000 back into our community through the support of agencies and causes including: Boy Scouts, Girl Scouts, scholarships for local high school and college students, Fruitland Fire Department, Christian Shelter, Wicomico County third grade dictionaries, RYLA, Easter Seals Camp Fairlee, MAC, Inc., Meals on Wheels, Parsons Home, Polio Eradication (Global), Fruitland Community Center, HALO, Wicomico County Library, The Salvation Army, Mission of Mercy, the construction of wheel chair ramps and much more.
The Rotary Club of Salisbury meets every Thursday at 6:00 p.m. in the Rotary Scout and Community Center at 1715 Riverside Drive in Salisbury.  To learn more about the Rotary Club of Salisbury or to obtain membership information, please contact Membership Chairman Ginnie Malone at 410-251-6188 or GMalone@cbmove.com or visit the club's website at www.rotarysalisbury.org.