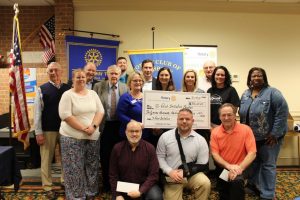 On Thursday, March 14, The Rotary Club of Salisbury distributed more than $39,000 to 12 local nonprofits from funds raised during the 2018 Governor's Challenge basketball tournament.
The Rotary Club of Salisbury is a partner with Wicomico County for the annual Governor's Challenge basketball tournament, which was sponsored by The Bank of Delmarva.
Its 3-Point Initiative promotes responsibility, integrity and academic achievement. In the three-year history of the initiative, The Rotary Club of Salisbury has donated over $84,000 to local nonprofits.
Funds for the 3-Point Initiative grant were raised through the Rotary Club of Salisbury's work in procuring sponsors for the tournament. Support also came from the Donnie Williams Foundation, the Richard A. Henson Foundation, the Richard and Patricia Hazel Charitable Fund and First Shore Federal's Community Fund.
The 2018 3-Point Initiative grant recipients are:
Child and Family Foundation's One Year to Empowerment program
• Christian Shelter
•           East Salisbury Elementary School's Nothin but Nets program
•           Epoch Dream Center
•           Main Street Gym
•           Off Street Sports Performance
•           Prince Street Elementary's Nothin but Cheers and Nothin but Nets programs
•           Salisbury Art Space
Salisbury Horizons
• Salisbury Urban Ministries' Kids' Café
•           Salvation Army's Nightly Adventures program
•           United Way of the Lower Eastern Shore's Imagination Library
Annually, The Rotary Club of Salisbury channels nearly $90,000 back into our community through the support of agencies and causes including: Boy Scouts, Girl Scouts, scholarships for local high school and college students, Fruitland Fire Department, Christian Shelter, Wicomico County third grade dictionaries, RYLA, Easter Seals Camp Fairlee, MAC, Inc., Meals on Wheels, Parsons Home, Polio Eradication (Global), Fruitland Community Center, HALO, Wicomico County Library, The Salvation Army, Mission of Mercy, the construction of wheel chair ramps and much more.
The Rotary Club of Salisbury meets every Thursday at 6:00 p.m. in the Rotary Scout and Community Center at 1715 Riverside Drive in Salisbury.  To learn more about the Rotary Club of Salisbury or to obtain membership information, please contact Membership Chairman Ginnie Malone at 410-251-6188 or GMalone@cbmove.com or visit the club's website at www.rotarysalisbury.org.3