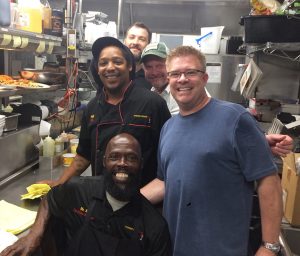 By Cathy Diekmann
Chamber representatives packed the house on September 12 during the September Business After Hours hosted by Rob Mulford and his team at Market Street Inn (MSI.)  Eager to check out what's new and still great at Market Street, guests enjoyed great food and live music while connecting with old friends and developing new business partnerships.
Always a gracious host, Mulford provided a tasty spread and butlered hors d' oeuvres that included MSI's famous crab dip and new crowd pleasers – shrimp & avocado toast, spring rolls and crispy fried deviled eggs.
MSI also is schooling locals about what's trending in cities like Chicago and New York – the "Anti Happy Hour."  While most people like to save money on a favorite libation or appetizer, not everyone can squeeze their schedule into the traditional happy hour time frame. MSI's "Anti-Happy Hour" menu offers specific drinks and pub-style eats any hour of the day. Add that to MSI's extensive wine collection, beers on tap and gourmet culinary concept, and one understands how MSI has stood the test of time.
After eighteen years in business, Market Street Inn has weathered economic ups and downs and two hurricanes that required significant repairs.  Mulford keeps the business fresh while maintaining what customers love about Market Street. (Half-Sandwiches in the Pub every Monday and Trivia Tuesday are back! Private dining for special events and business meetings is back!)
One thing that hasn't changed is Market Street's generosity to our community.  To date, Market Street Inn has donated over $162,000 to charitable causes such as the United Way of the Lower Eastern Shore, The Community Foundation and Joseph House.
If you believe personal relationships are vital in business, then the Salisbury Area Chamber of Commerce is vital to your business. SACC events and opportunities provide a significant return on the membership investment.  To learn more or become a member, contact Cathy Diekmann, Director of Membership Services at cdiekmann@salisburyarea.com or call 410-749-0144.