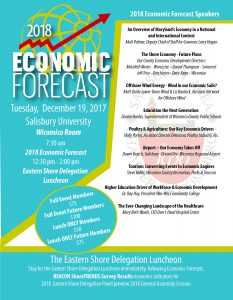 The Salisbury Area Chamber of Commerce will present the 30th Annual Economic Forecast December 19, beginning at 7:30 a.m. to be followed by the Eastern Shore Delegation Luncheon at 12:30 p.m. at Salisbury University, in the Wicomico Room of the Guerreri Academic Commons.
The event is an unparalleled opportunity to hear first-hand what leading regional economists and business leaders believe to be the biggest achievements and challenges ahead. The Chamber's 30th Annual Economic Forecast has been designed to help Delmarva businesses and the community plan for expected economic conditions within the future year ahead. Experts from around the Eastern Shore will gather to analyze the current challenges facing the regional, national and global economy.
Presentations this year will feature County Economic Development Directors: Meredith Mears of Worcester, Daniel Thompson of Somerset, Jeff Trice of Dorchester, and Dave Ryan of Wicomico. Matt Drew, of Lower Shore Wind and Liz Burdock, of Business Network for Offshore Wind will discuss Offshore Wind Energy, Donna Hanlin, Superintendent of Wicomico County Public Schools will discuss Education in the Next Generation, Holly Porter, Assistant Director Delmarva Poultry Industry, Inc. will present on Poultry and Agriculture as Key Economic Drivers, Dawn Veatch of the Salisbury-Ocean-Wicomico Regional Airport will discuss the Airport's role in the Economy,  Steve Miller of Wicomico County Recreation, Parks & Tourism will present Converting Events to Economic Engines, Dr. Ray Hoy, President of Wor-Wic Community College will discuss High Education Driver of Workforce & Economic Development, and Mary Beth Waide, CEO of Deer's Head Hospital Center will present The Ever Changing Landscape of Healthcare.
Following the Forecast, the Eastern Shore Delegation Luncheon will feature the entire Lower Shore Legislative Delegation and their thoughts on what will be the "hot button" issues for the 2018 Maryland General Assembly session. The panel will have a moderator overseeing the Q & A.
Along with the Chamber, the event will be sponsored by Tri-County Council for the Lower Eastern Shore of Maryland, the Eastern Region Small Business Development Center, Wor-Wic Community College, University of Maryland Eastern Shore, Salisbury University and its Franklin P. Perdue School of Business and Business Economic and Community Outreach Network (BEACON), Avery Hall, Delmarva Veteran Builders, Devreco, Delmarva Power, Pohanka Automotive, Quality Staffing, and Comcast Spotlight. Sponsorships for the event are still available, including CEO, Chairman, Board, and Supporter Levels. The recognition of sponsors at this event are significant.
Cost for the event is as follows: Full Event for Members $75, Full Event for Future Members $100, Lunch only for Members $50, Lunch only for Future Members $75. To sponsor or register for the event, visit salisburyarea.com, email lalfes@salisburyarea.com or mcoulson@salisburyarea.com or call the Chamber at 410.749.0144.