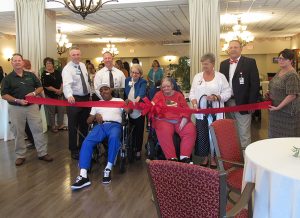 By Cathy Diekmann
What were you doing fifty years ago?  Salisbury Rehabilitation and Nursing Center (Salisbury Genesis) had just begun their first year in business. A lot has changed over those decades – their size, scope of services, and partnerships grew remarkably. Personnel came and left – but some didn't. Several employees have been there for over 40 years!
One thing that hasn't changed is Salisbury Genesis' commitment to caring for others with compassion and skill.
On September 27, 2019, hundreds of residents, staff, guests and friends of Salisbury Rehabilitation and Nursing Center turned out for a Chamber ribbon cutting and open house to celebrate fifty years in service. Licensed for 305 beds, Salisbury Genesis is the largest Skilled Nursing Facility in the Genesis system. That sounds impressive. However, Center Executive Director, Rob Stofer, noted "We are not about brick and mortar. We are about serving people."
Gesturing to photos of long-time Salisbury Genesis employees, Tim Davis, Senior Vice President for Genesis Health Care echoed that sentiment. "Salisbury Genesis has staff dedicated to their jobs for 20, 30 and 40 years. That is truly amazing!"
Cindy Lunsford, Executive Vice President/Chief Operating Officer at Peninsula Regional Medical Center praised the entire Salisbury Genesis team that serves as a bridge from hospital to home or, when needed, provides a new home for long-term care residents.  "We gather, in part, to thank you for your tireless commitment to fulfill the needs of so many, day in day and day out, " Lunsford explained.
Resident Committee President, Lea Richert, affectionately known as "Miss Lea," praised the residents and patients of Salisbury Genesis.  "Most of us don't plan on being here; it just sort of happens. But there's a lot to be said for sticking it out and making the best of what you're dealt."  Many residents nodded and smiled knowingly.
After the program, residents, family members, staff and guests were invited to enjoy an impressive array of food and beverages prepared by Salisbury Genesis' Director of Dietary Services, Kevin Whittington, and his team.  Smiles lit up the room as people clustered to chat and enjoy the festivities. It felt like a family reunion.
Find out how to become a member of the Salisbury Area Chamber of Commerce family!  Contact Cathy Diekmann, Director of Membership Services by calling 410-749-0144 or email cdiekmann@salisburyarea.com.