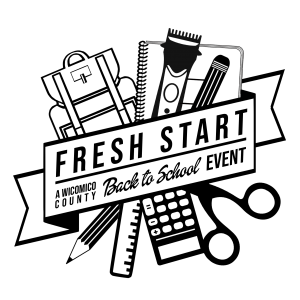 Numerous community organizations partner for back-to-school event
SALISBURY, Md. – Families can get ready for the upcoming school year at Fresh Start: A Wicomico County Back to School Event.
This free event is a collaborative effort between numerous Wicomico County organizations. The second annual event will be held Sunday, Aug. 25, from noon to 5 p.m. at the Wicomico Youth & Civic Center.
Children in need entering kindergarten and up can receive a free backpack and several essential school supplies. Free haircuts, fun activities and prize drawings will be available as well. Families will be able to learn about community resources.
Free transportation will be available in Salisbury.
"We are thrilled with the continued community support that is coming together to put on the second Fresh Start community back-to-school event at the Civic Center," said James Simmons, recreation superintendent for Wicomico County Recreation, Parks & Tourism. "Our community organizations will again come together to make a deeper impact in the area by working together for the common goal of setting up our youth for success."
Below are the partners for this event:
Extraordinary League of Gentlemen
Rotary Club of Salisbury
Salisbury Sunrise Rotary Club
Rotary Club of Wicomico County
Optimist Club of Salisbury
Salisbury Jaycees
Salisbury Elks
Dstinct Dsigns Barbershop
Deadstock
Peninsula Regional Medical Center
Donnie Williams Foundation
Wicomico County Board of Education
Wicomico Public Libraries
Wicomico County Health Department
Lions Clubs of Wicomico County
Amerigroup
The Wicomico Order of Red Men – Tony Tank #149
Wicomico County Friends of Recreation & Parks
Wicomico County Recreation, Parks & Tourism
Anyone interested in making donations to this event can contact Simmons at 410-548-4900 x114 or jsimmons@wicomicocounty.org.
For additional information about the event, visit www.bit.ly/FreshStartWicomico or contact Derek Jarmon at 410-548-4900 x113 or djarmon@wicomicocounty.org.