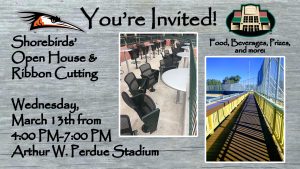 SALISBURY, Md. — The Delmarva Shorebirds will be hosting a special open house at Arthur W. Perdue Stadium on Wednesday, March 13th from 4:00 PM-7:00 PM, allowing the Delmarva community to tour the many renovations and upgrades around the stadium.
Check in for the open house begins at 4:00 PM when guests can enjoy complimentary ballpark fare. There will be a ribbon cutting unveiling the new wrap around boardwalk deck beginning at 5:15 PM. President of 7th Inning Stretch, LLC, Pat Filippone and General Manager, Chris Bitters will be on hand to address the community in regards to the unveiling of upgrades and renovations.
After the ribbon cutting, there will be stations available for guests to tour including the brand new boardwalk deck, newly renovated Executive Club and luxury level, Hardball Cafe with newly installed premium seating, luxury suites, and the Shorebirds' locker room. Each station will offer complimentary beer, soda, and water.
Around 6:30 PM, guests will meet behind home plate where the Shorebirds will conclude the event with the drawing of prizes. The prizes include a suite night (Sunday-Thursday), Hardball Cafe 2-top for a game, tickets to Opening Night, a Shorebirds prize pack, and an opportunity for Sherman to come take a group photo with your office. Guests will then have the opportunity to take a photo on the field or from the stadium seating.
"The Delmarva Shorebirds are thrilled to have so many new ammenities to share with the fans this year. We can't wait to unveil them, show them off to the Delmarva community, and watch the fans thoroughly enjoy them for years to come", said Chris Bitters, Shorebirds General Manager.
Please RSVP using the Shorebirds' Constant Contact Form, the Shorebirds' Facebook Event, by emailing Brandon Harms at bharms@theshorebirds.com, or by calling (410) 219-3112 by Monday, March 11th.
Opening Night at Arthur W. Perdue Stadium is set for Thursday, April 11th against the Lakewood BlueClaws at 7:05 PM. Tickets for Opening Night are now on sale and can be purchased online at www.theshorebirds.com/tickets.