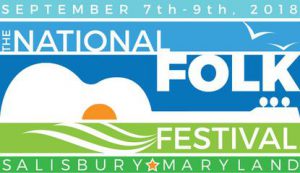 Salisbury—The National Folk Festival is coming to Downtown Salisbury, Maryland on September 6-8, 2019, with music, dance, crafts, food and more – and its FREE to attend!  In advance of the Festival, multiple street and lot closures will be necessary in Downtown Salisbury. The City of Salisbury would like to make the public aware of the street closures that will be coming in a few weeks along with the much anticipated National Folk Festival. Most streets close the morning of Friday 9/6 and any cars left within the scope of the festival will need to be moved by 6AM, as barriers will be put in place at that time. Mill St. at Rt. 50 and the intersection of Riverside, Carroll and Mill will close Friday, 9/6 at 6AM.
The closures taking place before Friday 9/6 are as follows:
Division St. from Main St. to Rt. 50 will be closed at 6AM on 9/3 and reopen 9/9 at noon
Market St. from Camden St. to Circle Ave. will be closed at 6AM on 9/4 and reopen 9/9 at 1AM
Main St. from Court St. to Division St. will be closed at 6AM on 9/5 and reopen 9/9 at 1AM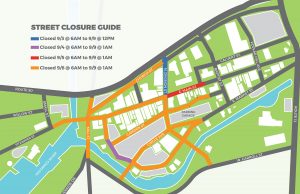 If you have permit parking downtown, please contact the Office of Business Development for lot closure information. Lots will be closing in a rolling fashion in the weeks following the festival.
The National Folk Festival attracts groups by the thousands and the City of Salisbury is excited to see local businesses take advantage of and benefit from the heightened tourism and foot traffic over the festival weekend. Running since 1934, the National Folk Festival is a great, family-friendly way to enjoy traditional music, art, food and folklife in an environment that encourages community and traditions. Visit www.nationalfolkfestival.com
For any questions or concerns, please contact The City of Salisbury's Office of Business Development at 410-677-1916 or info@downtownsalisbury.org