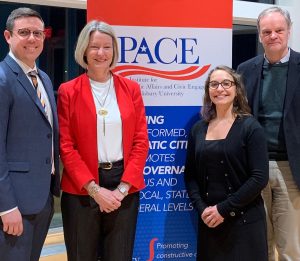 SALISBURY, MD—Salisbury University is the new home for the national Center for Civic Reflection.
Founded by Dr. Elizabeth Lynn at Valparaiso University, IN, in 1998, with support from Lilly Endowment, Inc., the center promotes listening to others and to one's self, and thinking carefully about civic choices and values.
Its new location was announced during a presentation by Lynn at SU's Ward Museum of Wildfowl Art.
"People need opportunities to speak deeply with one another," said Dr. Alexander Pope, co-director of SU's Institute for Public Affairs and Civic Engagement (PACE), which will oversee the initiative at Salisbury. "Civic reflection teaches us to consider the beliefs and values that underlie our community commitments and allows us to better reach our shared goals."
Lynn praised Salisbury's commitment to helping students become engaged citizens who act thoughtfully and who treat others with respect and mutual regard.
"That commitment literally shines on this campus," she said. "I am profoundly excited to see how Dr. Pope and his colleagues grow the center and the practice of civic reflection as part of higher education. They have vision and energy and will be leaders in this work, helping others learn from what they do."
Last fall, the center recognized SU as the first university in the U.S. to incorporate civic reflection into its new student orientation program. Pope hopes to continue that trend this year, possibly expanding it to students in local public schools, as well.
In the past two decades, the center has led more than 20,000 people in civic discussions in 42 states and internationally in countries and territories including Singapore, Jamaica and Guam. During these conversations, participants begin by discussing an image, video or short reading. This gradually leads to larger questions about civic engagement and deeper reflection about community issues.
The center's clients have spanned from small local non-profit boards to large national programs, including social service agencies, K-12 educators, college and university initiatives, healthcare providers and other civic leaders. Their discussions often have led to new organizational, business and classroom strategies.
At SU, clients already include the Maryland AmeriCorps program, which has scheduled trainings through the Governor's Office on Service and Volunteerism later this spring.
For more information about the center's services, emailcivicreflection@salisbury.edu or visit the center's website at www.civicreflection.org.