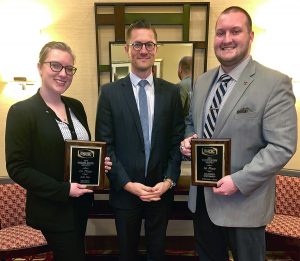 SALISBURY, MD—Two graduate students from Salisbury University's Mid-Atlantic Sales and Marketing Institute at Salisbury University (MASMI) recently won the 2019 National Collegiate Sales Competition at Kennesaw State University.
M.B.A. students Julia Rey of Annapolis and Graham Hensley of Baltimore participated in multiple rounds of sales role play, selling to potential buyer Gartner research and advisory services.
Coached by Dr. Aaron Johnson, assistant professor of marketing and management, the pair won the team selling round and the overall Top University Award for total points. Rey also won her individual round.
Part of SU's Franklin P. Perdue School of Business, the MASMI provides an academic program for students interested in sales, with financial and mentoring support from regional and national sales leaders.
For more information call 410-543-6030 or visit the SU website at www.salisbury.edu.