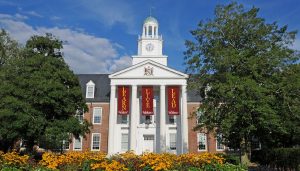 SALISBURY, MD—With nearly a quarter-million acres of farmland on Maryland's Lower Eastern Shore, according to the University of Maryland Extension, agriculture is one of the region's largest industries.
Based in southern Wicomico County, Salisbury University is in the heart of it all.
"Our location in the center of the tri-county area puts us in a unique position to help fuel the economic development of the agricultural sector of the Lower Eastern Shore and beyond," said Dr. Michael Scott, interim dean of SU's Richard A. Henson School of Science and Technology. "Technologically, we can offer resources to farmers locally — and throughout Maryland — that they otherwise may not be able to access."
Recent examples include:
Eastern Shore Regional GIS Cooperative
The ESRGC, a partnership between SU, the Mid-Shore Regional Council and the Tri-County Council of the Lower Eastern Shore of Maryland, has worked with multiple agricultural and land conservation organizations. Its Agricultural GIS Extension creates free maps and analysis products for farmers, allowing them to make more informed decision about their land, leading to better farm management and higher profits, according to Lauren McDermott, the cooperative's practice manager.
The organization also is working with the Delmarva Land and Litter Challenge to develop a dashboard to explore the current status, historic patterns and trends of the Delmarva poultry industry, which could be used to forecast future growth, McDermott said. Beyond that, the ESRGC helped the Maryland Department of Agriculture (MDA) map poultry houses no longer in operation — a valuable tool for a local entrepreneurship center seeking to identify industries and businesses that could use them for other purposes, such as aquaculture.
Biological Sciences Department
When the Maryland General Assembly and MDA approved a pilot program allowing industrial hemp crops for the first time in nearly 70 years, stipulations for potential growers included a university research partnership. SU's Biological Sciences Department became the first in Maryland to offer such partnerships, receiving inquiries from farmers throughout the state. This summer, Dr. Mark Holland hopes to work with at least six growers — mostly on the Eastern Shore — to study the effects of his laboratory's agricultural probiotic (already used commercially for corn, soybeans and other crops) on hemp. If successful, the program is expected to give farmers a new crop option in the future.
The initiative will provide new opportunities for undergraduate research as has a program led by Dr. Les Erickson, department chair, to study the DNA of yeasts used by two local craft beer breweries. This helps ensure the right strain is used to produce the flavors and aromas the brewers are striving for — and add new varieties to their output with the potential for additional sales.
Entrepreneurship Competitions
Competitors in the Franklin P. Perdue School of Business' entrepreneurship competitions, which offer up to $300,000 per year in cash, prizes and services for SU students and Mid-Atlantic entrepreneurs, also have thought about the future of agriculture. Regional entrepreneurs have won awards for ideas including a sustainable fruit and vegetable growing system using biomimicry (such as indoor LED lighting), an "aeroponics" humidifier for sprouting seeds and an algal desktop bioreactor that scrubs carbon dioxide from the room and converts it to oxygen while growing algae, among others.
Business, Economic and Community Outreach Network
Part of the Perdue School, BEACON has conducted dozens of studies for agricultural and land-use organizations, including a 2018 study undertaken for the  Maryland Agricultural and Resource-Based Industry Development Corporation (MARBIDCO) examining "The Impact of Resource Based Industries on the Maryland Economy."
That study showed that the agriculture sector contributed $15.8 billion to the state's economy, supported more than 65,000 jobs, and added over $605 million in combined state and local tax revenue.
Another recent example is a BEACON study that examined the impact of value-added agriculture on Maryland's economy. That study highlighted areas of current and projected agricultural expansion, including wineries, agritoursim venues and other ventures that combine traditional farming with other industries for a greater financial boon.
"For people who earn their living from Mother Earth, one way or another, value-added agriculture doubles their take-home pay on average," said Dr. Memo Diriker, the center's director. "That's good for them, and that's good for the state because that money churns the economy."
For more information call 410-543-6030 or visit the SU website at www.salisbury.edu.
/eof