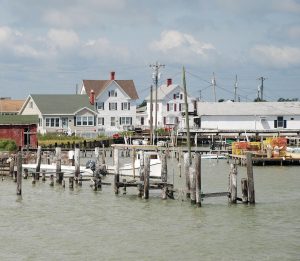 SALISBURY, MD—Registration is open for the Chesapeake Studies Conference, a first-of-its-kind event scheduled Wednesday-Friday, June 5-7, at Salisbury University.
The inaugural theme is "Casting a Wide Net."
"The Chesapeake and Delmarva are special regions, and they deserve their own separate study," said Dr. Beatriz Hardy, conference chair and SU dean of libraries and instructional resources.
SU is in a unique position to host the conference, not only because of its location on the Delmarva Peninsula just miles from the Chesapeake Bay, but because of its specialized resources in the area, including the Ward Museum of Wildfowl Art, Edward H. Nabb Research Center for Delmarva History and Culture, Eastern Shore Regional GIS Cooperative and a growing Environmental Studies Department.
Scheduled topics include climate change, servitude and race, maritime culture, Chesapeake science, Delmarva culture and transdisciplinary research. Dr. Victor Kennedy, author and Chesapeake Biological Laboratory professor emeritus, keynotes the conference.
The event opens with a wine and cheese reception at the Ward Museum on Wednesday, June 5. Optional events over the next two days include documentary screenings, a crab feast and opportunities to observe Chesapeake and Delmarva culture firsthand with visits to the University of Maryland Center for Environmental Science's Horn Point Laboratory and oyster hatchery in Cambridge, MD; Harriet Tubman Underground Railroad National Park and Blackwater Wildlife Refuge, also in Cambridge; and Smith Island, one of the bay's only two remaining populated islands.
Registration is $50 for students, $100 for non-students through Sunday, March 31; $60 for students, $120 for non-students from April 1-May 28. Additional fees apply for the crab feast and excursions.
To register, or for more information including a full schedule, visit the conference website at www.chesapeakestudies.org.