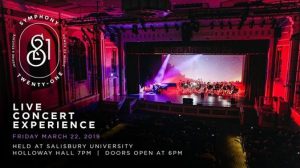 Salisbury, MD —Symphony 21 invites you to Salisbury University's Holloway Hall Friday, March 22 at 7 p.m. for a live concert and interactive experience.
The show will feature Daniel Bowen, founder and composer, on piano accompanied by a hand selected symphonic orchestra and stunning visual FX.  You will see a mix of different genres of music like electronic dance music, hip-hop, jazz and classical. The musicians are nationally acclaimed and have played with top artist like Beyoncé, Stevie Wonder, Elton John, Lady Gaga and more. The performers interact with the audience through fun and educational demonstrations. This experience is unlike your typical orchestra concert and is perfect for music lovers of all ages and genres.
This event is a free community event. Doors open at 6:00 p.m. and all donations raised and merchandise sold will benefit the Symphony 21 program.
Symphony 21 is a non-profit music program whose vision is to propel the sound and image of orchestral music into the 21st century.  The programs use a modern orchestra, technology, and visual arts in order to inspire and educate students to pursue careers in music and expose non-traditional audiences to orchestral music. They are designed to enrich the music and arts communities in rural areas by providing unique music performances with educational components.
For more information on future concerts, school tours and giving opportunities please visit www.symphony21.org.