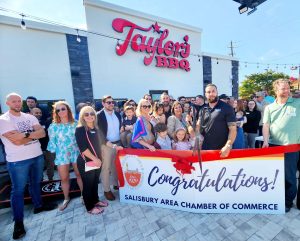 The Salisbury Area Chamber of Commerce celebrated with over 80 chamber members, family and friends Taylor's BBQ new location with a ribbon cutting on May 25, 2023.
Locally and family owned by the Calabrese family, Taylor's BBQ continues to uphold the 30-year tradition of making everything fresh daily and providing the community with memories of shared family get-togethers, weddings, graduations, holidays or just having a good time with good food.
Kathy Calabrese welcomed the crowd on behalf of her family and shared that "We started this venture as a family project so that we can spend more time as a family together. But we couldn't have done this without you in our minds; it is a joint effort from all of us to have a place to come with your family, relax and enjoy some really good food and great memories with family and friends. As you know Taylor's BBQ has been in business for over 30 years, and we have been involved with it about half that time. Continuing, its all about the next generations, who are right here with me. Thank you all for coming, it means the world to us!"
Kathy had also wanted to recognize SVN Miller, M&T Bank, UHY, Fisher Architects, and Delmarva Veterans Builders, who are all members of the Salisbury Area Chamber of Commerce, for their partnership and support during this venture.
Conveniently located on route 13, in between TidalHealth and Salisbury University, this brand-new state of the art restaurant has fun rustic-modern décor. The floors are a beautiful shiny swirl of red, white, and black/brown colors, that is in perfect harmony with the interior decoration. The bar area accommodates approximately 20 patrons and has an amazing selection of innovative cocktails. The restaurant also features an outside patio, and an area featuring games that include corn hole and bocce ball. If you are in a hurry, one cool feature is that they have 2 self-order stations as you enter the building where you place your orders and not wait for someone to take your order.
Patrons can enjoy a variety of mouthwatering home cooked comfort foods such as peas & dumpling soup, wings, sloppy mac and cheese, chicken salad, baked beans, wet cornbread dog amongst others! Each morning smoke can be seen lofting up from the gigantic custom-made barbecue cooker which cooks their famous chicken, ribs, slow cooked brisket, wings, and pork over an open flame. Taylor's is also well known for their southern style wet cornbread and made from scratch daily baked goods that include fruit, meringue, chocolate custard, peanut butter custard, and cheesecake pies to name just a few.
Create your own memories by visiting Taylor's BBQ at 934 S Salisbury Blvd, Salisbury, MD or ordering online at www.taylorsbbq.com.