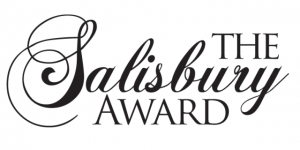 The Trustees of The Salisbury Award are pleased to announce that the recipient of the award for 2016 is Bob Cook. Mr. Cook has demonstrated a lifetime of commitment to helping others in service to our community. He was a founder of Wor Wic Community College and served as Executive Director of the Greater Salisbury Committee for 25 years. Mr. Cook assisted with the founding of The Community Foundation of the Eastern Shore, Junior Achievement of the Eastern Shore, and Salisbury Wicomico Economic Development. Bob has always loved the Boy Scouts and was president of the Delmarva Council of the Boy Scouts of America and continues his very active commitment to this day. He has been a trustee and president of the Richard A. Henson Foundation and a board member of the Hudson Health Services, the Ward Foundation, the Salisbury Area Chamber of Commerce, the Rotary Club, and the St. Peter's Episcopal Church Vestry. He also served our country as a colonel in the U.S. Army at the end of World War II receiving numerous decorations for his bravery.
The Salisbury Award is the community's oldest and most prestigious independent civic award. First given in 1926, the award was established and originally endowed by local businessman G. William Phillips to recognize "service that has been the greatest benefit to the happiness, prosperity, intellectual advancement or moral growth of the community". Mr. Phillips' role in creating the award was unknown by the general public until his death some 25 years later.
Mr. Cook was honored for his contributions and presented with The Salisbury Award plaque for 2016 at a special reception on the campus of Wor Wic Community College on November 18th, 2016. In addition to presenting a plaque to memorialize his selection, the Trustees will
make a donation in the amount of $500 to a non-profit organization chosen by the honoree.
This ceremony will mark the 64th time The Salisbury Award has been presented to an individual or an organization since the Award's inception. As the 2016 recipient, Bob Cook will join a special group that includes previous honorees such as James M. Bennett, Avery Hall, Richard Henson, Frank Perdue, Dick Hazel, Sam Seidel, Paul Martin, Virginia Layfield, Mitzi Perdue, Lewis Riley, Pete Cooper, George Whitehead, Tony Sarbanes, Bill Ahtes, Ben's Red Swings, The Community Foundation of the Eastern Shore, The Magi Fund, and last year's recipient, Norm Conway.
To learn more about The Salisbury Award and its history, including a list of all the honorees since 1926, please visit the new Facebook page that is currently under construction and will be updated as more history is gathered. The address is www.facebook.com/thesalisburyaward.