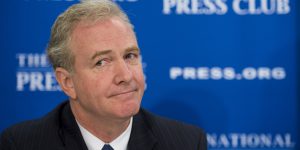 Only a few tickets are remaining to the Salisbury Area Chamber of Commerce Breakfast with U.S. Senator Van Hollen, and registration is closing quickly. Van Hollen, among other topics, will be discussing the controversial Trump Tax Plan, the future of Offshore Wind on the Eastern Shore, and the future of the American Economy. Van Hollen will also be addressing attendees on the role the region plays in relation to the financial well-being of Maryland.
"The Eastern Shore is crucial to Maryland's economy – from the strength of our tourism industry, to the importance of our agriculture sector, to the growth of innovative new businesses," he said. "I'm excited to join the members of the Salisbury Area Chamber of Commerce to hear their thoughts on opportunities and challenges in the region and to share my work in Congress on issues facing the Shore. I'm looking forward to a productive and informative discussion with Salisbury's business leaders."
The event begins at 9 a.m. Cost for entry is $27 for Chamber members, and $37 for future members. To register, visit salisburyarea.com or call 410.749.0144. The Hampton Inn is located at 121 E Naylor Mill Rd, Salisbury, MD 21804.
Tickets are
ALMOST SOLD OUT

, so please register as soon as possible to save your seat.