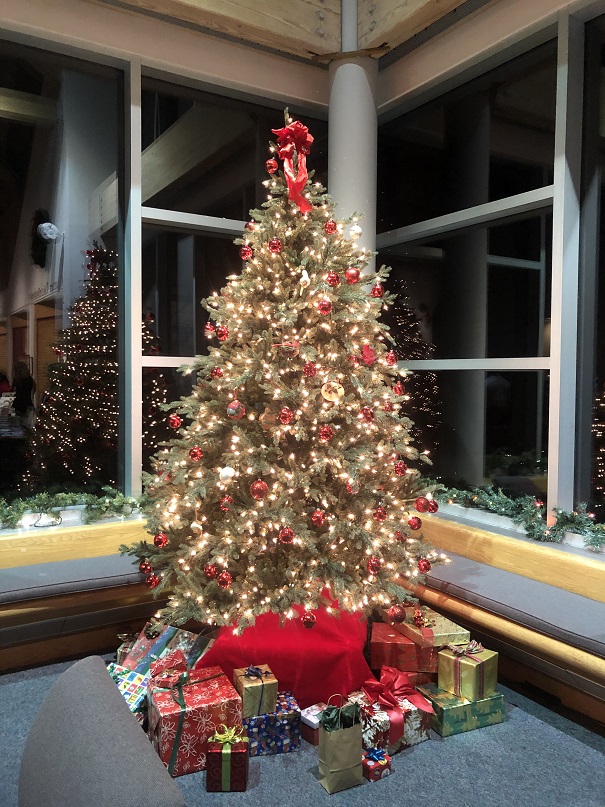 The rooms of the Ward Museum of Wildfowl Art, Salisbury University were filled with cheer of well over 150 people on December 13 as the Salisbury Area Chamber of Commerce presented its festive Business After Hours Reception. Music was provided by a string ensemble of students from Parkside Highschool, while Sessa Vending and Catering provided an array of Italian style dishes and Chef Stewart of Flannery's brought jambalaya. The owners of The Ugly Pie offered several bite size selections of their assorted pastries. A craft corner let attendees paint locally harvested oyster shells to create ornaments for the season.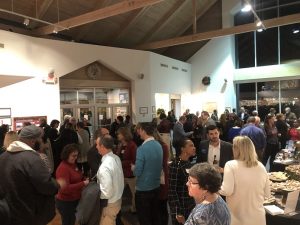 Bill Chambers, President and CEO of the Chamber welcomed the guests to the occasion, recognizing Stephanie Willey, a representative of the event's main sponsor, Comcast Spotlight, and local dignitaries including Wicomico County Executive Bob Culver, Wicomico County Council President John Cannon, Wicomico County Director of Administration Wayne Strausburg, Wicomico County Assistant Director of Administration Weston Young, President of Wor-Wic Community College Dr. Ray Hoy, Superintendent of Wicomico County Public Schools Dr. Donna Hanlin, Wicomico County Clerk of Court James "Bo" McAllister, Wicomico County Council member Josh Hastings, and Dave Wooten from the Office of the Comptroller.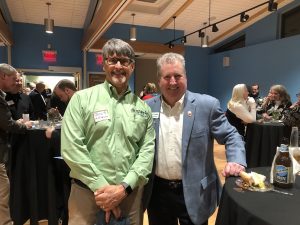 Rather than introduce himself, Kent Kimmel, the museum's Board Chair, used his time on the microphone to present their newest hire.
"All I want to do is introduce you to our brand new, recently returned Executive Director, Dr. Kristin Sullivan. Dr. Sullivan was here for about two and a half years, two and a half years ago, went out to Washington state—we convinced her that this is where she really needed to be. We got her back here as our new Executive Director."
Sullivan expressed her gratitude for the evening's turnout and encouraged all attendees to utilize the recently opened Legacy Center, an annex stemming from the original museum.
"Thank you all very much for coming here, being part of this event, and being part of our community. I want to see by a show of hands, for how many of you is this your first time at the Ward Museum? Oh, there are only a few folks here.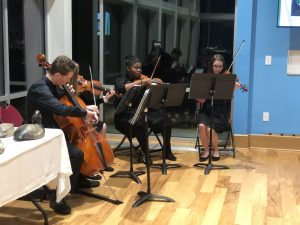 "We'll have to attack those people back there and show them how to sign up and become a member. And for how many of you is this the first time at an event here in the Legacy Center? A number more. This place is available for parties of all sorts and we hope you'll come back, bring your events here, bring your meetings here and also I'd love just to reach out to all of you from this place and say I'd love to talk to you about your position in the community—how we can better partner and collaborate."
Shawna Kearsley, the museum's Director of Corporate and Community Relations then took the floor to talk about opportunities for education and economic expansion through potential business and community partnerships.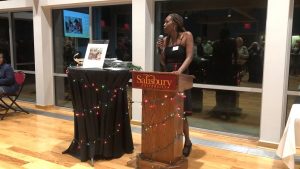 "Thank you, Dr. Sullivan, we are just absolutely the most excited that we have our new fearless leader sitting in the seat…we serviced over 29,000 youth and adults last year. Education is our super power and that is what we do. We reach out to the community and are asking you for the support—if you look at our PowerPoints [on the walls] there are a lot of programs here that we offer that are free to the Tri-County area and beyond. We're only able to bring access to these free programs with the help of our business community. So, you're thinking about now, 'What's in it for me?'
Kearsley went on to encourage guests to look beyond the ingrained identity of the museum and its art and invest in its advantageous assets.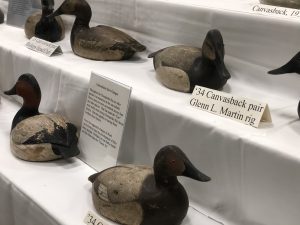 "We are not just about the ducks. As business owners, we at the Ward Museum are fully aware that is it about the bottom line, it is about money, and it is about making sales. We have a platform with which you can do that. We sit on a vast network of resources. Aligning yourself with a philanthropic brand changes your brand. A Ward Museum brand adds credibility to your label. So, we have a vast number of resources, and what's in it for you is [that] we can show you how you can increase your bottom line sales through becoming a corporate partner of the Ward Museum."
Before closing she thanked the event's sponsors as well as her volunteers, and beseeched guests to become more involved.
"This is very important for the corporate world. We are looking for volunteers; a lot of the companies that you guys work for will give you credit for volunteering for a non-profit organization. So, we're asking that you guys come out, volunteer with us; there is plenty that you can do—send your kids here to volunteer. We're just really awesome people to hang out with."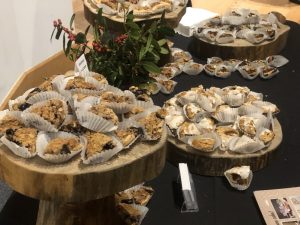 Henry Stansbury, a member of the Board of Directors and Vice Chair of the Chesapeake Bay Maritime Museum then spoke about the museum's history and their new initiative, the Golden Goose Membership Club.
"I'm going to give you a two or three or minute history lesson, because this is the education center. Many of you have not been in this particular room before, because this room just opened up in 2018. 2018 is the hundredth anniversary of the Ward Brothers when they started carving. This display over here represents decoys that were made by the Ward Brothers. You want to take a look at them before you leave here today."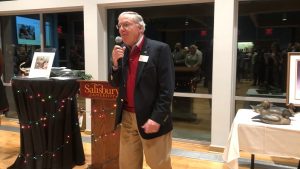 Stansbury presented and described a number of decoys beginning with one of the first of the Wards' carvings, a golden-eye duck made in 1918. He went on to give a detailed history of the Wards structure and technique and its evolution. He aligned this chronology with an account of the personal lives of the Ward brothers and began his closing with praise for the museum's growth and enduring ingenuity.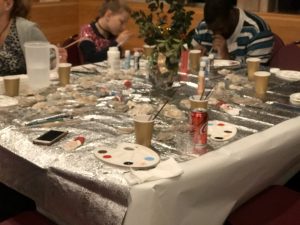 "In 1965, a group of people—movers and shakers like you, decided that we are the decoy capital. The Ward Brothers have transformed a hunting decoy into an art form. And they formed the Ward Foundation in 1968. And 1968 is 50 years ago. So, we have the hundredth anniversary of their carving and we have the fiftieth anniversary of the Ward Foundation. And look at what has happened since. This museum grew from a museum in the main room, and then we realized we have all these school children coming with all these education opportunities, we didn't have the facility for it and in 2018 we opened up this room. This room is for education, and we have 29,000 people that have come through—not all school children, also adults that are interested in wildfowl art, who teach conservation, who teach birding, who teach all sorts of activities associated with nature, the society around us."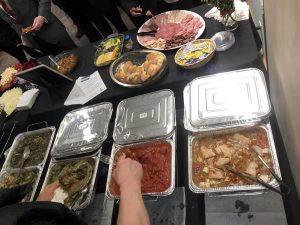 He then closed the program with thanks the museum's partner, Salisbury University, and encouraged guests to join the Golden Goose Society for$1,000 a year to supports the education programs in the Legacy Center.
The Ward Museum of Wildfowl Art, Salisbury University is located at 909 S Schumaker Drive in Salisbury, Maryland. For more information visit the museum's website at wardmuseum.org or call 410-742-4988.